Being as helpful as we possibly can is a part of what we do on the daily. "Frequently Asked Questions" sections are the cornerstone of a great customer support system, and for good reason - sometimes even if you're a long time user of a product, things can slip your mind.
We're doing a small round up of questions that we come across on a semi regular basis. This instalment is covering the basics - getting started, and what to do next.
Er, I've forgotten my password!
If you have forgotten the password for your account entirely, no sweat - these things happen to the best of us.
Choose the "Forgot your password?" link on the log in page.
An email will be sent to the address associated with your account, which will provide you with a link to reset your password.
I want to join my company's showcase account, how do I do this?
If you know your company already has a Showcase account and you want to join, there are two ways do get this sorted!
You can ask your company Showcase Administrator to create an account for you! Once your admin creates you an account they will either preset you a password and will pass on the details to you, or they will send you an invite link to your email address where you can create your own password.
You can get in touch with us at helpdesk@showcaseworkshop.com and let us know what company you'd like to be associated with, and we can get you set up.
Important to note: if you sign yourself up with a brand new free trial, you won't be able to see any of your companies content yet. You must be added to the correct workshop to see any company content, but you are more than welcome to keep your own personal workshop for building whatever you like! Bear in mind that you will be charged per workshop you are a user within.
Leading on from this point...
I'm in two different workshops - how can I switch between them? Can I see them both at once?
Some users have the good fortune to be a part of two different Showcase workshops - there are many reasons why you might be in multiple - be it between two companies, two divisions of the same company, or your own personal workshop along with a company account.
If you are in multiple workshops, it's not possible to "mesh" then together and see both workshops content at the same time.
However, it's really quick and easy to switch between them!
In the app:
In the bottom left of your app, there is a little "cog wheel" icon which when tapped, opens your Settings.

There you'll see a "Workshop" tab.
Tapping this opens your workshop options. If you're in multiple, you'll see a list to choose from. If you're just in the one - you won't be able to do anything here!
Tap the workshop you want to swap to, and close your settings, The new workshop will load in your app.
In the browser:
If you're logged into app.showcaseworkshop.com you can swap workshops too!
Click the "cog wheel" icon on the right hand side of your page, to bring up your Settings.
The first thing that will pop up is the Workshops tab. Simply select the Home button in the workshop you'd like to swap to.
I've been told to use Showcase by my company, but I don't know what to do now?
Welcome! We're stoked to have you on board.
We've got heaps of helpful resources to help you out, for one you can find anything you need on our Knowledge Base.
But the set up basics are really fast and simple.
Download the Showcase Workshop app onto your device.
Log in with your email and password.
Any content that you have access to will appear as thumbnails in your app. To download the content so you can view it, tap the green cloud icon.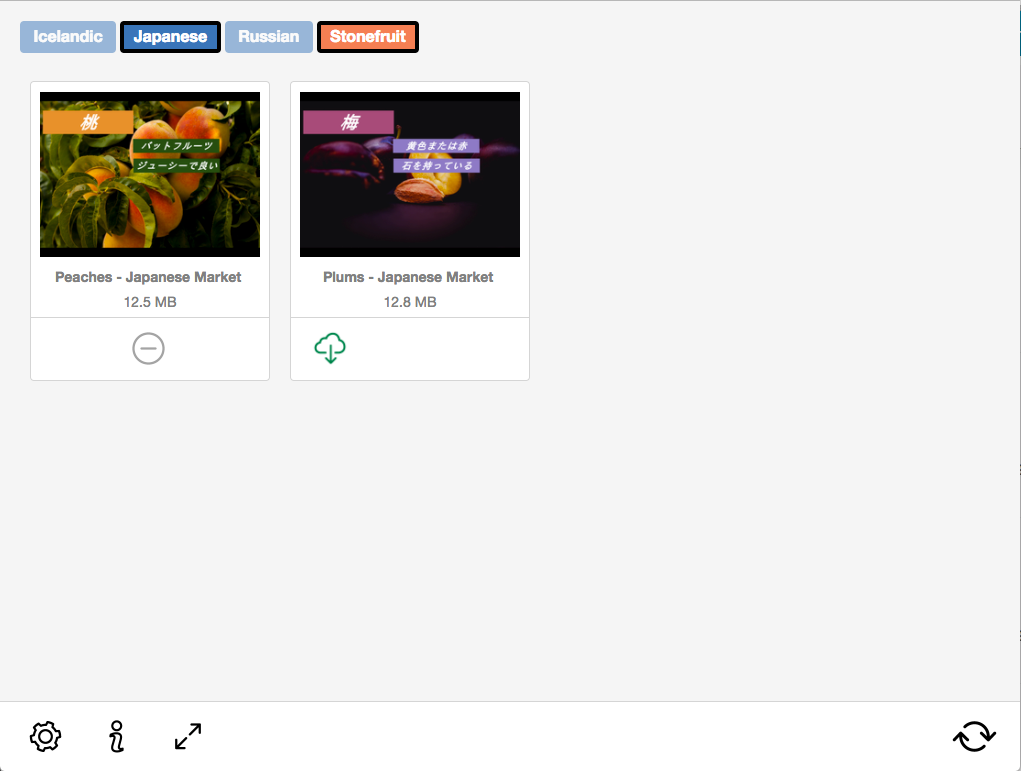 Once you've downloaded your content, you can view it offline! To receive any content updates, you will need to be on wifi or data however - if there is an update to download, the cloud icon will be orange.
Do I get invoices or receipts? How can I check them?
You surely do. You get a receipt and invoice every month sent to your designated billing email.
Within that email, at the very bottom there is a link to your billing portal - in this portal you can change or update your billing details, and also see your past invoices.
You can also access your billing details by clicking Subscription Settings in your workshop Settings in the browser.
So no worries if you accidentally delete your emails!  
Check back over here on the blog soon for the next instalment of FAQs!