If you find yourself peering at your Showcase Analytics with a face of disbelief, never fear! We're here to help. There are many ways you can give your users a gentle push and improve your users overall Showcase usage.

Our Showcase reporting is probably our most popular and well loved feature, and with good reason. It's up to you how you use our analytics but a lot of our customers find that pulling regular reports is extremely beneficial for keeping up to date on their overall workshop usage.
Keeping this in mind, there's a feature that too often gets overlooked that can play a vital part in keeping your overall Showcase stats up.
The Email Users option is the Knight in Shining Armour of features. You can use it to remind staff that use a particular showcase about the upcoming changes to their information, major changes to the showcase that need to be updated on their devices, or just as a standard email group tool.
Email Users is an option under each showcase, and is showcase specific. That means if you have multiple showcases that have different access permissions, you're able to email only the relevant users - handy, no?
So where is this function hiding?
Here's your beautiful showcase sitting on the home page of your workshop.

Clicking the 'More' dropdown on the right hand side will provide you with a bounty of additional showcase options. Here you'll find the aforementioned 'Email Users' button. Hey there, friend!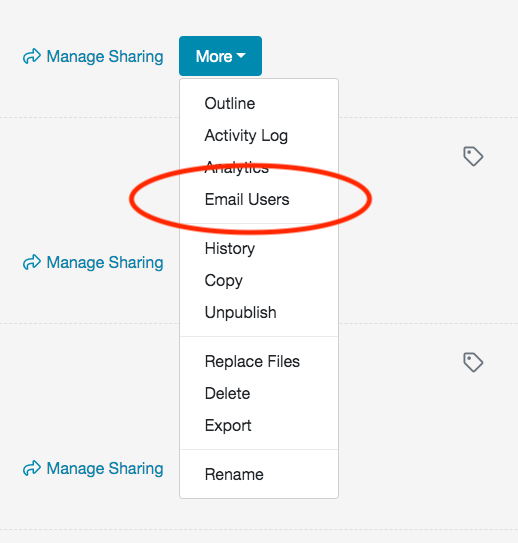 You'll be taken to a screen where you can dictate what you'd like to send to all users who have access to this showcase. Here is an example: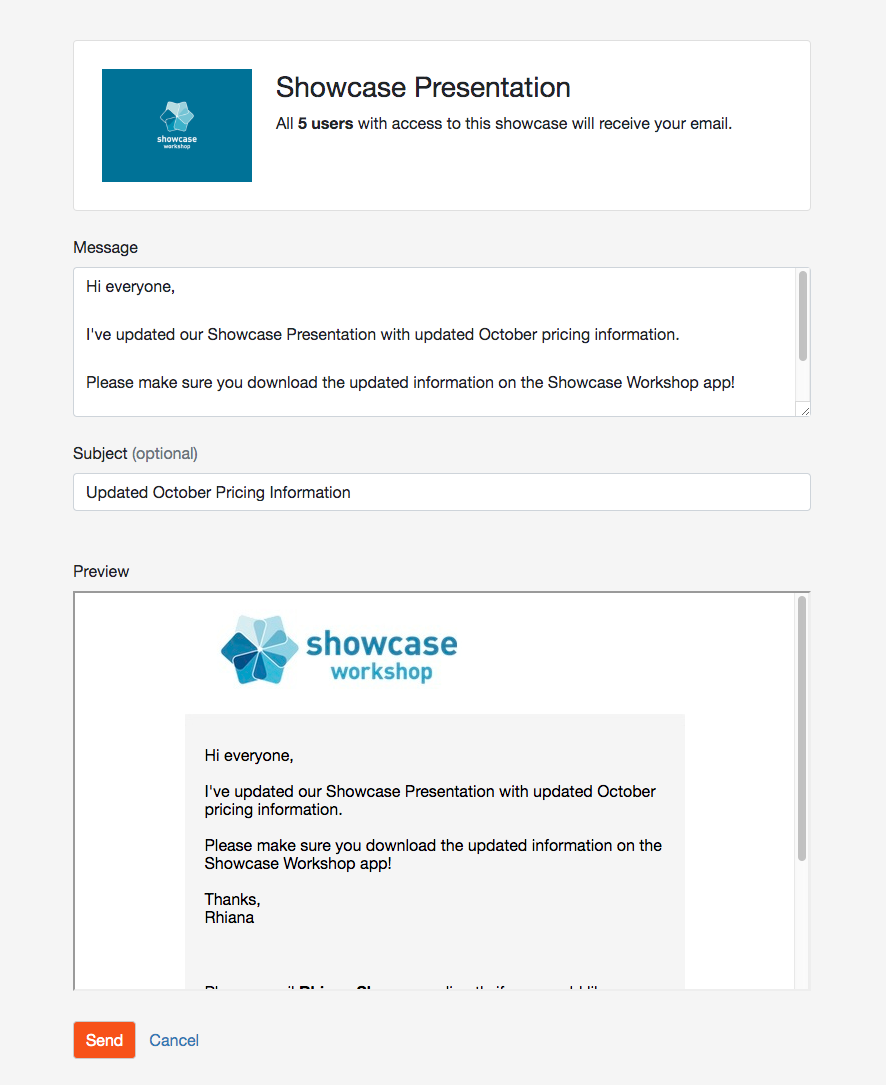 You can see here that I'm emailing all 5 users with access to my Showcase Presentation Showcase with the message that I've made some changes in the preso, and they need to make sure they pop in and check that they're up to date on the Showcase app.
Your users will still get the push notification within their device that there are updates to the showcase to be downloaded.  
This email will be sent straight to the users inbox so the great thing is they'll get this message seperate to the Showcase app, which can serve as a great reminder to check the app/use it more.
Using the Email Users function as a general email tool is also beneficial because it not only saves you some time inputting all those specific email addresses ,but it creates the precedent for your users to associate Showcase and all it's features with their work on a regular basis.
Want to chat about more usage boosting tips? Get in touch with us at helpdesk@showcaseworkshop.com and let's brainstorm.