Let us set the scene for you:
It was a sunny day about four weeks ago and the star salesperson from one of our clients - we'll call them WidgetCo, and we'll call him Mr Sales - was preparing for an upcoming expo.
He knew it was going to be busy, and while he was looking forward to the opportunities to interact with prospects and to generate new sales leads, he was dreading the necessary data collection that came along with it. A stack of paper on a clipboard, a pen tied on with string, asking prospects to repeat their details because of the din in the auditorium... sound familiar? Not to mention the drag of typing it all into the CRM after the show!
So he had his marketing manager - we'll call her Miss Marketing - to get in touch with us. After all, they'd already put the time and effort into preparing a pretty awesome Showcase presentation for the event - why not see if it's possible to build the lead capture into a natural stage in the sales conversation and digitise the lot?
At Showcase we've created forms like these for a number of our clients like WidgetCo. These need to be coded so that the data can be sent back to Showcase's servers for retrieval after the show (cue Mr Sales doing a fist-pump in the background - no more tedious data entry!). Our coded forms are pretty powerful; they can even include basic calculations on how much a prospect might save, or what fees they can expect to pay. A great sales tool.
But sometimes you snag a customer at a show who is ready to get down to business. You have a standard sales agreement, contract, or RFI, and you don't need a whiz-bang expo-quality solution. You're down to the nitty-gritty with your prospect, you've explained the terms and conditions to them and you both just want to sign it and get on with it!
You've already got a perfectly fine PDF form you've been using for centuries. Nobody wants to reinvent the wheel on this established process, but dang, wouldn't it be nice not to break flow? What if there were an easy way to get a signature right on the iPad, without having to scramble around for an old fashioned pen and paper for that all-important signature?
Guess what? We've got a solution for this as well. And if you're already subscribed to Showcase, it's free.
Adobe recently released an app called Adobe Fill & Sign, which you can download absolutely free for iOS & Android. By lucky coincidence, we recently introduced a feature in our iOS app that allows you to open shared files in other apps on the iPad*. With these powers combined, there's now a great solution for filling in your PDF forms on your iPad, straight from Showcase.
Here's how you do it.
First of all, make sure Adobe Fill & Sign is installed on your iPad.
Throw your Sales Agreement PDF - or whatever PDF it is that you want signed - into a showcase, and make sure that showcase has In-place sharing turned on.
On the iPad itself, open Showcase and navigate to your chosen PDF. When you pop open the tray and go to 'Share', you'll be given the option to 'Open with'. Tap this and choose "Copy to Adobe Fill & Sign" from the list.
Here's an example - the PDF is the first link in WidgetCo's list of documents: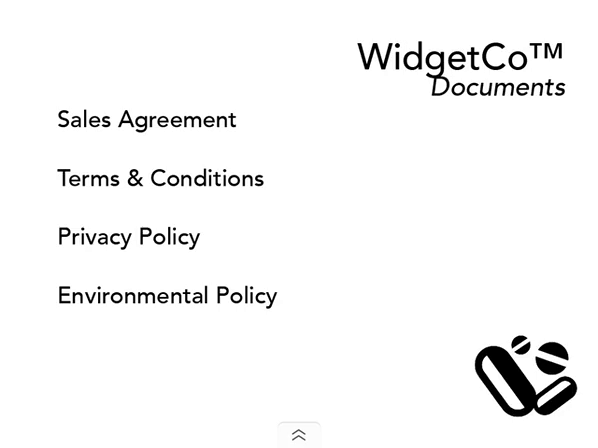 Once you've selected "Copy to Adobe Fill & Sign", the Fill & Sign app will open separately. Tap anywhere to insert some text. You can reposition the text and choose from a couple of sizes. Here's what it looks like when you enter a date: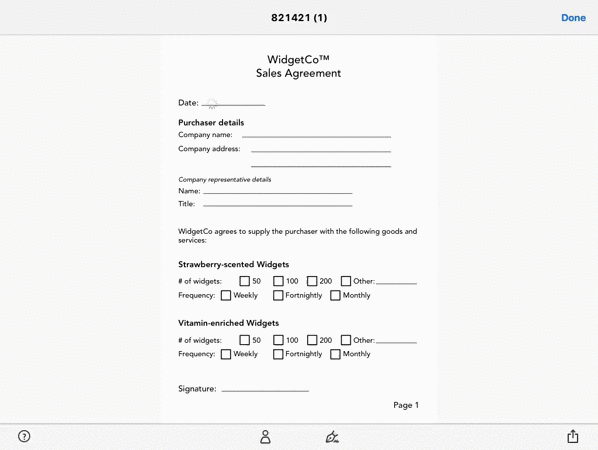 You can also long-press anywhere on the screen to insert a check mark, cross, bullet point or circle at that exact spot on the PDF. For example, if the form has pre-existing boxes, you can check them like so: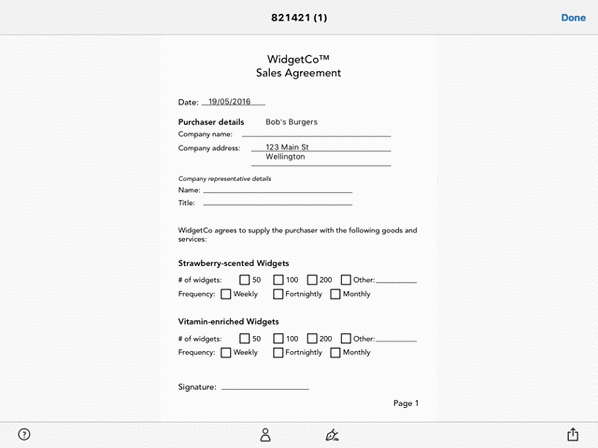 Finally, here's the bit you've been waiting for - adding a signature. Tapping the cute little fountain pen icon down the bottom will prompt a dialog where you can "Create Signature" or "Create Initials". Get your prospect to do their best finger-painting of their signature right on the iPad screen, and BOOM! You can place that anywhere you need.
Here's what that looks like in action: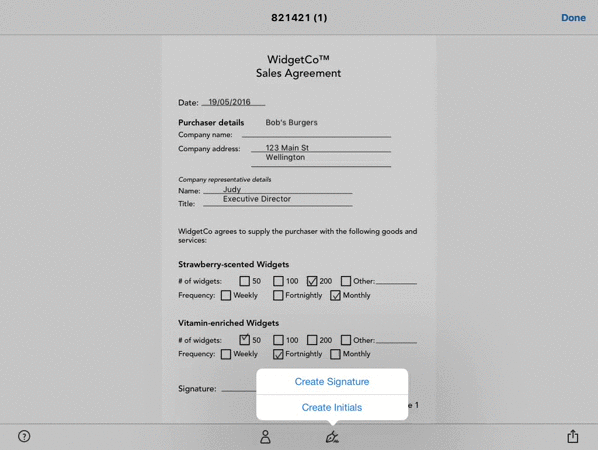 How snazzy is that!? Once done, you can use the sharing option bottom right to send the signed PDF via email - or hit Done and it's saved to the Fill & Sign library. You can switch back to the Showcase app by dragging 5 fingers across the iPad screen from the left.
We'd love to hear stories of how you use the Showcase + Adobe Fill & Sign dream team of apps - or if you need any assistance to get this kind of process up and running with your showcases. Either way, let us know at helpdesk@showcaseworkshop.com.
And if signatures aren't so important, and you actually like the sound of our snazzy, calculating, data-sending forms mentioned earlier, do fire us a line at info@showcaseworkshop.com.
Happy Showcasing!
*We're working on Android capability for this as well.