Earlier this year, one of Showcase's clients invited us to an "All-Agency Day" in sunny southern California.
An All-Agency Day is a way for a large organization to bring together - in one room - all the advertising and communications agencies who work with them. In recent years, it's become common to include technology companies like Showcase, too.
This event is an opportunity for the host (our customer) to do two main things:
Share recent company results, strategic updates and other company news with all the agencies in one go.
Tap into the collective creativity of the room and generate some fresh ideas.
It's sort of a creative day-camp.
Complete with snacks and games of course!
All-Agency Days are usually interesting. This particular event, however, really got my gears turning. In fact, it inspired our whole company.
The Existence of Millennial Sub-Groups
One of the agencies in attendance was Conill, a multicultural marketing agency. They were asked to give a presentation about the "Hispanic Millennial" consumer group for those of us who might be unfamiliar with what makes them unique.
As a white farm-girl from rural New Zealand, I didn't meet anyone from South or Central America, Mexico, or the Caribbean until I was at least 19 and had moved to a city. Even now, with a third of each year spent in the USA, my exposure to Hispanic culture is still pretty much limited to pop culture icons from music and TV.

So it was interesting to learn what separates (in general terms) Hispanic Millennials from other millennials.
How different could they be?
What came through strongest were the themes of outward cultural pride and deep respect for their heritage:
The majority of Hispanic Millennials are first-generation Americans. Through their parents and grandparents, they have a very real connection to the countries that their family members immigrated from.
They have very close family bonds with a deep level of respect for their elders. As native English speakers, the Millennials in the family are often seen as the bridge to American culture.
They take pride in their contribution to the arts. Movie stars, musicians, TV personalities, and fine artists aren't just popular in their own countries, they're serious forces worldwide in their respective industries.
While I know these three things aren't exclusive to Hispanic Millennials, they stood out to me because they were different than how I feel as a Kiwi Millennial.
Different Values Sometimes Point Us Down Different Paths
I don't know if it's because most of us are 3rd- and 4th-generation New Zealanders, if it's because we tend to be a low-key bunch, or if I just mix in the wrong circles -- but I'd say that vocal, enthusiastic pride in our nation, our heritage and our artistic output are not defining characteristics of Kiwi Millennials.
Nicky (our wonderful Director of Client Amazement) was at the All-Agency Day event with me, and on the drive back to our hotel, we got to talking about this. We considered the types of things that might define Kiwi Millennials.
Nicky is a deeper thinker than me so she may not wish to be directly associated with all of these ideas, but for me, these are the things that come to mind when I think of what we Kiwis are proud of.
We're proud of our do-it-yourself attitude. We believe that we can do anything with the resources we have available (and perhaps a little bit of help from the guy who lives down the road). This isn't limited to home maintenance either. We love to DIY our business growth, our accounts, and our food and beverages. Speaking of beverages...
We have strong, pride-like feelings about many of our beverages. Coffee, craft beer, Pinot Noir and Sauvignon Blanc -- most Kiwis seem to have a connection to and strong feelings about at least one of these beverage categories.
We have a reputation for being friendly and hospitable. I hear it so often and so consistently from visitors, and I am proud it's the impression we give to visitors.
We take pride in our clean, green country. Not only that it is clean and green, but that we are good long-term caretakers of our land. We continue to keep it clean and green the best we can. Along these lines, we also have easy and safe access to the outdoors. Even with the growing traffic issue, we Kiwis can be surrounded by that clean, green nature within an hour of our homes.
It's this last one that's closest to my heart.
So bear with me as I share one more story.
The Forested Path I've Been Walking -- and How Showcase Will Help Save the World
This year my husband and I "discovered" the U.S. National Parks network.
Our first experience was in the Utah parks, followed by a trip through some of the California parks. Our California adventure included a memorable weekend in the majestic Redwood National Park, home to giant trees that date back hundreds -- some thousands -- of years. A few of these beauties can trace their roots back to the early middle ages!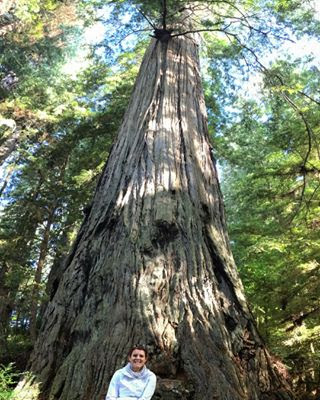 *Here's me sharing some fresh air with a 1200-year-old redwood near Eureka, California.*
It was on this very walk that the synapses in my brain began connecting these ideas. Don't you love it how walking does that?
Ever since we started Showcase, it's been a goal to use some of the business's profits to contribute to a program or charity that makes the world better.
However, I didn't want the connection between Showcase and the charity to be arbitrary.
I kept my eyes open for the right opportunity … and as I was wandering below ancient redwoods, it hit me.
Showcase is a tool that, amongst other things, saves printed pages (trees).
Lightbulb moment!
Conserving nature -- especially trees -- is important for our future, for all of us. Across the globe and across generations.
And we can use our own technology to make saving trees an interactive experience for our users!
You can follow along easily because "page views" is already a metric that we track in Showcase. You can see the numbers anytime in your Reporting tab..
Each page viewed in Showcase is a page not printed on paper.
So the notion of tracking how many pages are viewed in Showcase and converting those unprinted pages into a donation to plant more trees made for a pretty fun loop.
I'm so excited to finally launch the Showcase Forest Releaf Fund, which has been several months in the making.
For every 8,500 page views in Showcase, we will donate $10 to Trees that Count.
Our goal is to contribute at least $10,000 in the next 12 months.
I hope you'll enjoy taking part with us and contributing toward the planting of more native trees.
May the forest be with you.
Millie