We know how important a compelling presentation is to closing a sale.
It's why we created Showcase Workshop — to help sales teams convert more prospects into customers.
But when it comes to putting together a face-melting presentation for a sales conversation, there are a lot of different options on the market. Prezi — another presentation software product — is one of the most popular, and it has a lot going for it with its focus on nonlinear presentation formats.
Today, I'm giving you a side-by-side comparison of Prezi and Showcase to help you decide which one is best for your business.
The Matchup: Prezi vs. Showcase Workshop
At first glance, Prezi and Showcase seem to accomplish the same thing — enabling businesses to create and deliver awesome presentations to their audience that move them to action.
But there are actually many differences.
Prezi is fundamentally a presentation software platform. With Prezi, you create your presentation on a single canvas, layering different visual elements and information on the same page, with no prescribed flow of information. While the resulting experience may be visually compelling, learning to build your presentations that way requires time and effort.
Showcase, on the other hand, is a content management and presentation system. With Showcase, you can present your slide decks (and any other content) in any number of ways. With Showcase you turn your sales and marketing collateral into an impressive app that works on any device, whether you're online or offline.
So that's Prezi and Showcase Workshop at a high level — now let's dig into the details.
Features Comparison
While we can all agree that visually compelling presentations are the goal for anyone using these tools, there are several factors to consider when choosing a martech solution to help you grow your sales.
Here are a few of the features our customers have asked us about when making their decision.
Presentation Tools
One of Prezi's most prominent value propositions is the focus on nonlinear presentations. All content in the presentation is laid out on a single digital canvas, and layered according to a chosen information hierarchy. You can zoom in on an element to display additional information, if available, and zoom back out again for the larger view, all without leaving the interface.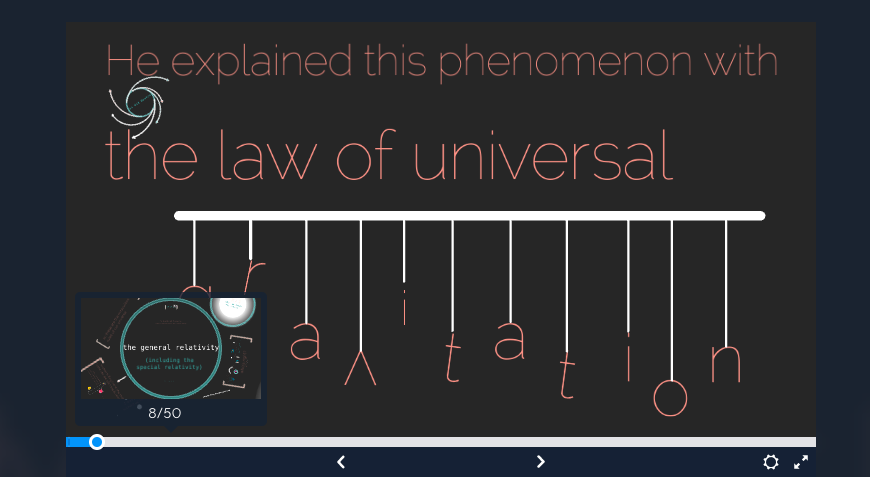 With Showcase, you have the flexibility to present linear and nonlinear presentations, or some combination of both. With hotspots and custom menus, you can design a flow of information for a sales presentation that isn't prescriptive, but that organizes the content in a coherent way.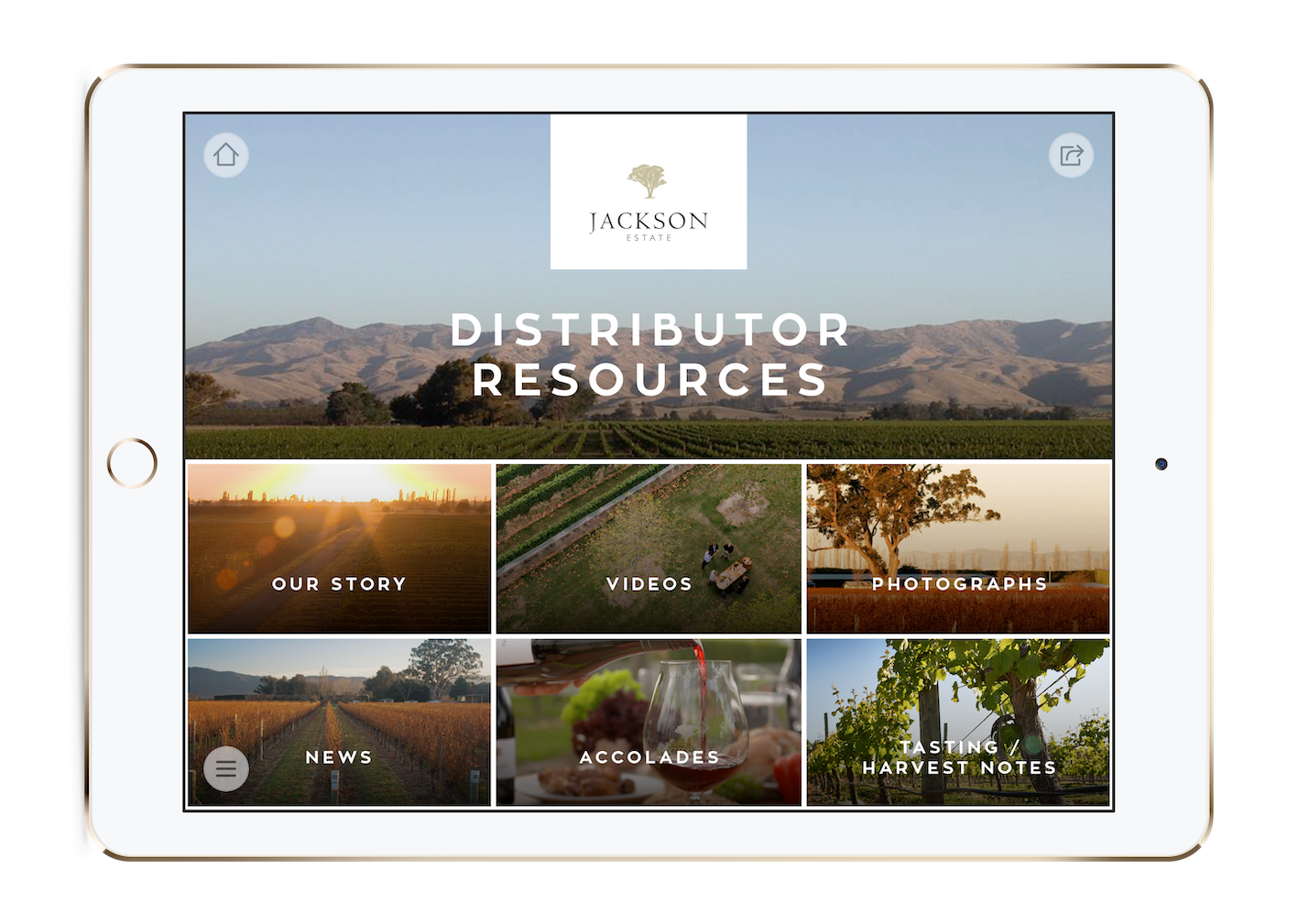 Showcase also lets you present virtually any kind of content: slide decks, brochures, articles, videos, price sheets, PDFs, and photos, are all content you can include in a Showcase presentation. And you can also search for content, so that you can quickly jump to a piece of relevant content without having to navigate your way through the presentation to find it.
Slide Design Software
Prezi is presentation design software, but not slide-deck design software. In fact, its design philosophy is exactly the opposite: All the elements of the presentation (images, charts, URLs, and so on) exist on a single canvas. The user doesn't "advance" through the presentation, and doesn't consume the information in any particular order. The presenter has full control over the flow of information.
By the same token, Showcase is not slide-deck design software either. It's a content management and presentation solution that allows you to structure the information you want to (ahem) showcase in any way you see fit. That means that you can design custom menus and navigation that help guide your audience through the content (any content, not just slides) in the way that will ensure they get the most out of it, and organize all the files in your presentation accordingly.
Mobility
Sales can happen anywhere, and sales conversations often happen outside of the office — so mobile and offline access to files is a critical component of any presentation software.
Both Prezi and Showcase support mobile apps for every device, and offline access to files. However, if you're using Prezi, you have to use the desktop app to download a presentation for offline access first, or go with a more expensive price plan to access those presentations offline.
With Showcase, you have offline access to your presentation right off the bat. As long as you make sure you download key content to your mobile device while you're still online, you'll have access to it wherever you go.
Sharing Features
Sharing your presentations is obviously key to getting your content into the right hands, at the right time.
With Prezi, you can share your presentations by sending a link to a recipient, or exporting it to a PDF file and sending it via email. Whichever way you deliver it, they get the entire set of information, all at once.
With Showcase, you can share your entire presentation or just parts of it. For example, if you (or your customer) want to highlight a particularly relevant piece of information to another stakeholder, you can simply select specific slides of the presentation to share, so they don't have to sift through all the content to find what you want them to see.
Analytics
In our increasingly data-driven world, metrics are key to understanding which strategies — and which content — is working to help grow sales.
While Prezi does offer some analytics (e.g., when a presentation is opened, viewed, or shared, or how long a viewer spends on a particular topic within the presentation), you need to pay for the Premium or higher plan to get them.
With Showcase, you get a robust set of analytics right out of the box. In addition to tracking when a customer receives, opens, downloads, or shares your content, you get data on what individual slides have been viewed, shared, and how often. You can also track each presentation's daily page views and daily average time within a given date range and find out how your presentations are performing.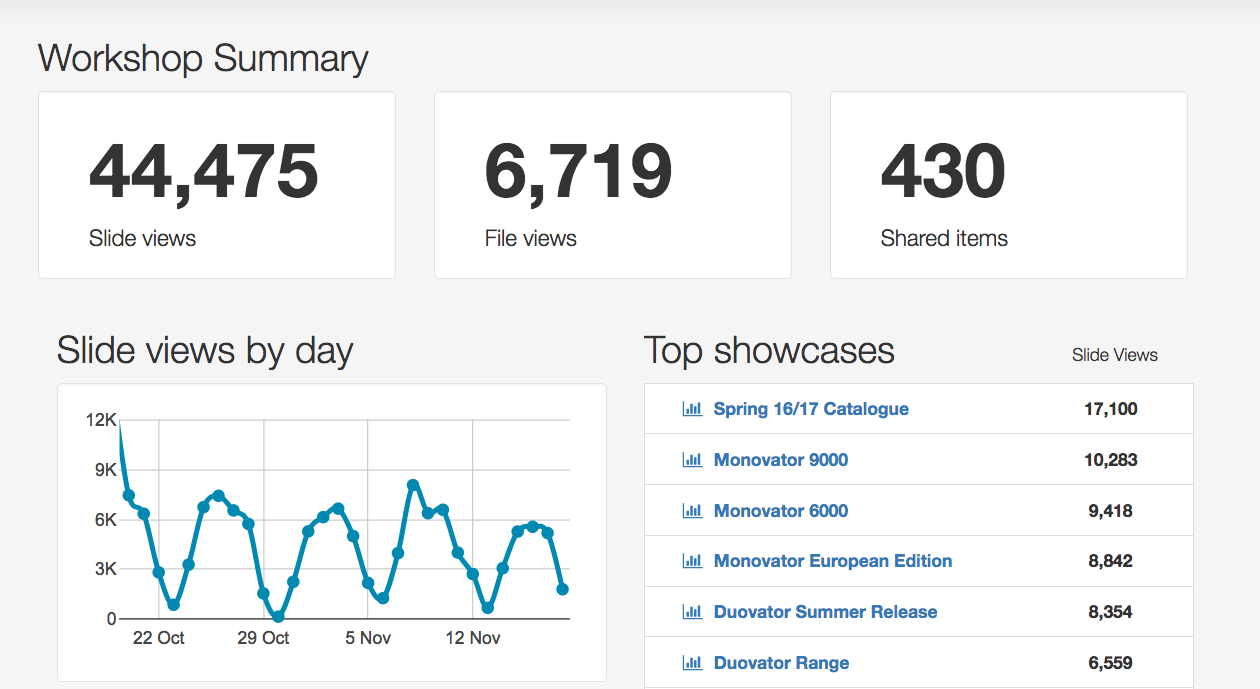 Ease of Use and Learning Curve
Any new software tool involves some ramp up to get the most out of it.
Although Prezi has a lot of drag-and-drop functionality in its presentation builder tools, the learning curve for this software is steep. The nonlinear presentation philosophy imposes a design approach that may not be familiar to many, and the functional implementation is unique to Prezi. End users also need to learn how to interact with the interface to access all of the content.
That said, Showcase has its own complexities that administrators and designers need to understand before they can start building their showcases. But once that foundation is in place, Showcase is a breeze for an end user who's accessing and consuming the content.
So Who Are These Products Best For?
There's no doubt about it: Prezi does provide a compelling and immersive experience for visual presentations, especially when they're part of an actual conversation that takes unexpected twists and turns. So if you're only going to be designing, building, and presenting nonlinear presentations for your sales conversations, then Prezi may be a great solution for you.

But if you want the flexibility of using all kinds of sales and marketing collateral, in a variety of formats (including linear slide decks), to have more organic conversations with your customers, Showcase may be the better option for you. For organizations that have sales teams in the field, Showcase gives you access to the right content, at the right time, to help your sales conversations go the right way.

Unlock the Power of Your Content
We are actually very fond of how Prezi helps their customers turn every presentation into a compelling visual experience.
Whether you take a linear or nonlinear approach to creating your presentations (or something in between), with Showcase your sales team will be able to leverage your best sales and marketing content for better sales conversations — and a healthier bottom line.