Showcase Workshop Webapp (Version 5.1.73) includes the following new features:
Ready-made templates for easy Showcase creation
Now when you start a new Showcase you'll see two options:
Either,
Create a "New showcase from template" or,
Create a new showcase from "New blank canvas"

Our new templates are really easy to use and are fully customisable - everything including the background, the logo, the text, fonts and position and size of the hotspots can be changed to meet your brand or presentation requirement.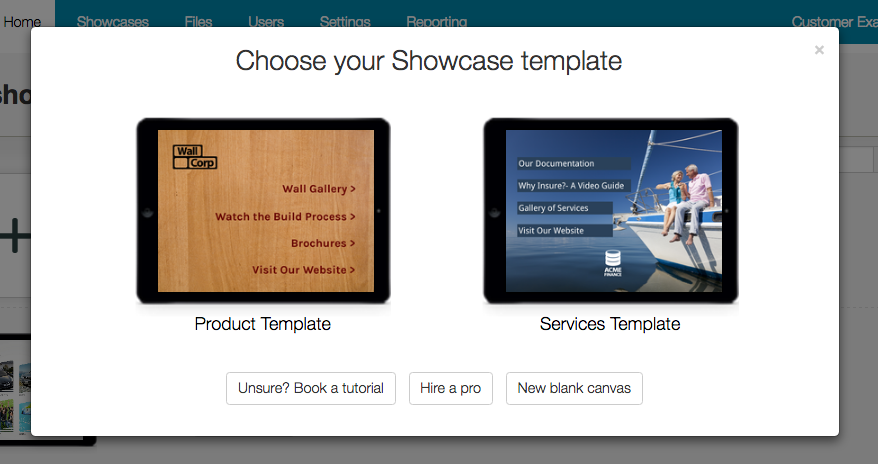 You won't need a designer or a technical expert to get yourself up and running with a mobile presentation using our ready-made templates. They've been designed so any user can enjoy a little Showcase success within a few minutes of getting started.
Here's a rough and ready screen recording of us turning the 'Wall Corp Product Template' into a showcase for 'Cheese Co' to show you just how easy it is to do.
Note: there's no audio in this video.
If you're a designer or experienced using design software you can still access our blank canvases.
We've enhanced the range of options so you can select the exact device orientation and aspect ratio you want to work with if you know it.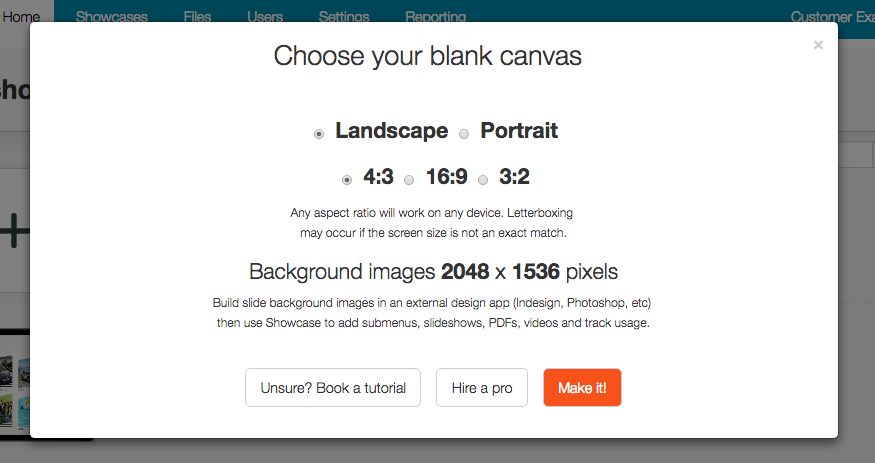 Don't worry if you don't know the exact device type or if your team have a range of devices. All of these templates will work on all kinds of devices.
If it's not pixel perfect you'll just have a little bit of black space around your design. That's called "letterboxing" and it won't affect the function of your showcase at all.
Deleting and renaming files while editing
You ask. We provide.
We had a number of requests to allow files to be renamed, deleted and moved while in editing mode.
These options have been available for a while in the file library but often it's more convenient to do these things while you're editing. And now you can!

Any time you select a file while in editing mode you'll see:
Move - move the file to another folder
Delete - delete the file from the file library for good
Rename - rename the file to something more memorable
Download - download the file for use outside of Showcase Workshop
Number of slide 'Favourites' now shown in the outline view
Just in case you've never used the showcase outline view you'll find it in the 'More' dropdown next to each of your showcases in the Home menu.
And also in the options along the top of your showcase while you're in editing mode:

As the name suggests, the outline view provides you with a view of the complete structure for your showcase. In a single view you see all the component pages and slides and anything linking off of them.
You can also use this view to quickly jump to pages for editing.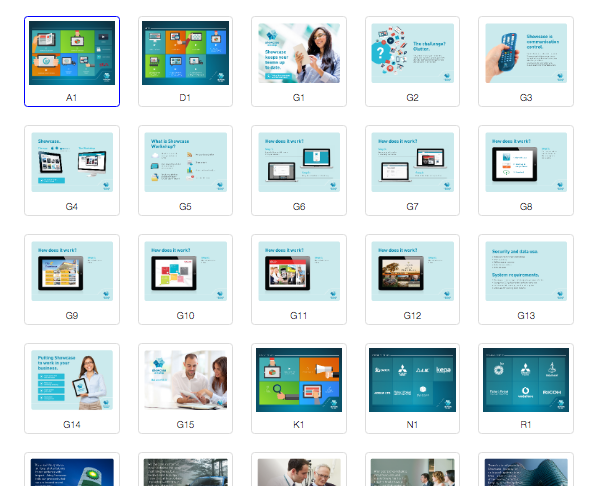 If you have a number of users and you'd like to measure the popularity of your content based on the new-ish 'Favorites' feature you can now see the Favorites count in the Outline view as well.
Firstly as an a total for the whole showcase. In the below example, 2 users have favorited 9 slides in total.

If you click onto any slide or image you'll see how many people have favorited that particular slide or image. Here's an example: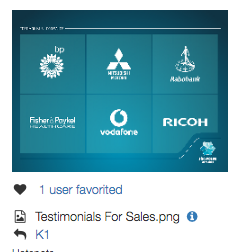 Not familiar with our Favorites feature? Find out how it works in our May release notes.