We know how vital it is to be able to share marketing and sales materials with prospects quickly and easily — that's why we built Showcase.
But we also know that there's no shortage of options when it comes to sales enablement and presentation tools for businesses large and small. Finding the right tool for your sales team will depend on your company, your sales team, and your customers.
ClearSlide, another sales enablement app, is one of the more popular options, with a lot of extended functions and integrations — and all those bells and whistles can come with a pretty hefty price tag.
So today, I want to do a side-by-side comparison of how Showcase Workshop stacks up as an alternative to ClearSlide.
The Matchup: ClearSlide vs. Showcase Workshop
ClearSlide and Showcase Workshop accomplish many of the same goals.  Both platforms allow teams to:
Store and organize presentation materials from a centralized hub.
Share presentation materials via email or other quick links to customers and prospects.
Collect data about how end users interact with the materials.
Analyze the data to look for trends to engage with prospects at exactly the right time and improve sales performance over time.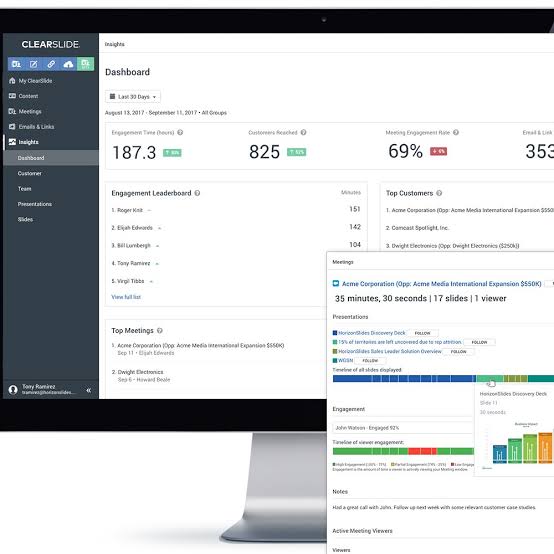 Beyond that, however, there are some fundamental differences.
ClearSlide bills itself as an all-in-one solution for the entire sales workflow. In practice, this means they have features and integrations that allow sales teams to call, email, and even give live video screen sharing demonstrations and presentations through the app. ClearSlide integrates with many other software solutions, including Outlook and different CRMs as well, to try to streamline all the sales tools into a single suite.
Showcase Workshop, on the other hand, focuses on being a content management and presentation system. Our modus operandi is to make the process of sharing content as simple and easy as possible for both the sales team and the prospective customer.  And while Showcase does have an API for developers to use to create integrations, we focus on maintaining an easy-to-use app that works well alongside your other tools.
That's a high-level look at the two tools; now let's dive into some of the features.
Features Comparison
When comparing sales presentation tools like ClearSlide and Showcase Workshop, it's not exactly like for like, so we're going to compare and contrast the main areas of functionality rather than go too deep specific features. (If you're interested in that, book a live demo with us instead).
So let's start with how ClearSlide and Showcase are the same. Both offer the following features as part of the most basic package:
24/7 Accessibility – Your end users should be able to sync the latest versions of your sales collateral as soon as you publish it, so they're not affected by Internet connectivity issues when they meet with prospects.
Total Consistency – Your marketing team directs, creates, and manages content so that your collateral and messaging stays on point. This is especially important if your enterprise maintains a large selection of materials.
Designed for Sales – Your sales team can easily access your collateral in a format that supports your enterprise's branding.
(Interested in a more thorough discussion on choosing the best sales engagement app for your needs? Click here to check out our app-agnostic white paper.)
Presentation and Sharing Tools
Both ClearSlide and Showcase Workshop offer the ability to share presentations in multiple different ways. Sales teams can present live from a laptop or mobile app, send a link to presentation materials, or email a pitch to a prospect.
ClearSlide offers an integrated screen sharing tool called Live Pitch that allows sales teams to share their screens with a prospect remotely in order to share a presentation or give a live demo. However, there are additional charges based on how many participants are in a meeting, and only the higher-priced plans can record and replay meetings.
While screen sharing can be accomplished with Showcase via third party applications like Zoom or GoToMeeting, screen sharing is not a native feature in Showcase. However, depending on your needs, Showcase paired with a third party screen sharing app could be a more affordable solution than ClearSlide's group or enterprise plans.
Analytics
The best sales teams know that we live in a data-driven world, and metrics are key to understanding which content is working to help grow sales, and which strategies top sales producers are using.
ClearSlide and Showcase both offer a robust set of analytics to track when a customer receives, opens, downloads, or shares your content, as well as data on which individual content pieces have been viewed, shared, and how often.
With Showcase, you can also track each presentation's daily page views and daily average time within a given date range and find out how your presentations are performing.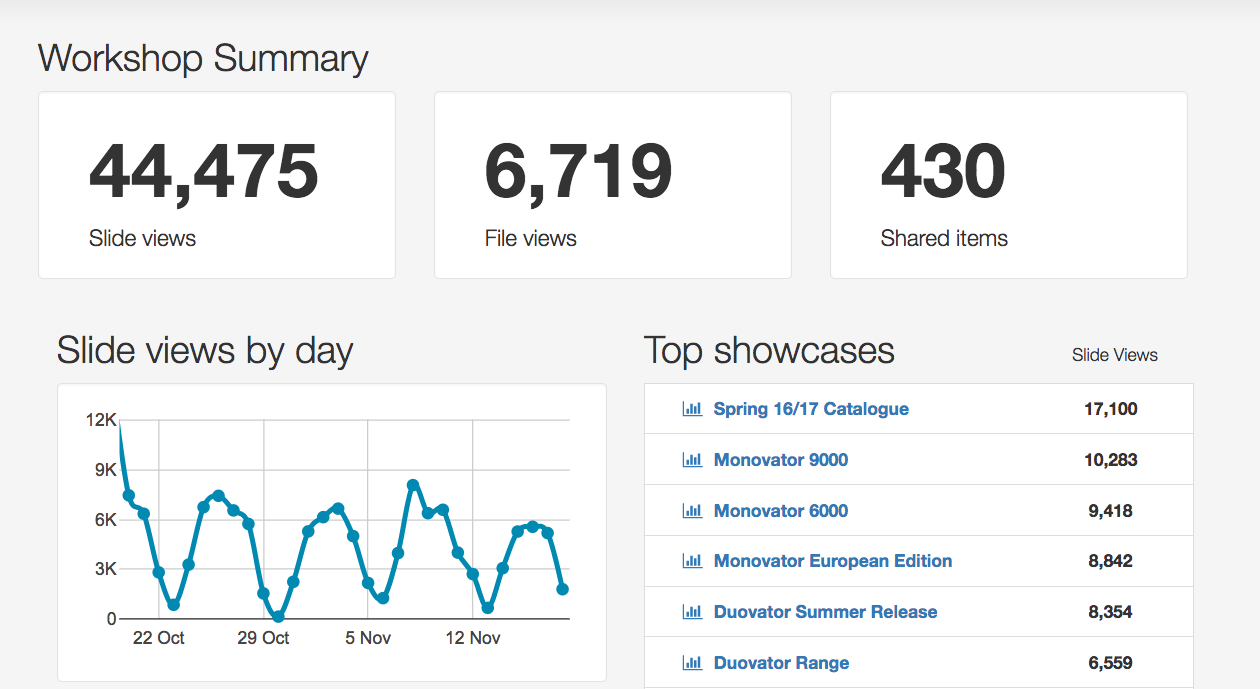 ClearSlide offers an additional data sets on the sales team for higher priced plans, including the number of emails sent and meetings held by individual sales reps or entire teams, as well as the ability to compare engagement analytics by team or region.
Ease of use and learning curve
Any new tool requires some onboarding time and training to get to use it, but how much time and training is necessary can vary widely.
Because ClearSlide offers many different tools under a single umbrella, it can require a significant amount of time and effort to onboard and implement, especially with a large team. One common user complaint about ClearSlide (from online reviews) is that the user interface is clunky and not very intuitive. It requires a good deal of time and training to become familiar with all the tools and functionality. In addition, because there is so much complexity to the tool, it's possible that many individual reps or team members may never learn to use or access all the functions available to them, and a function that is never used is, in essence, useless.
Showcase has its own complexities that administrators and designers need to understand before they can start building their showcases. But once that foundation is in place, Showcase is designed to be a breeze for an end user who's accessing and consuming the content. Individual sales reps need very little training to understand the user interface and start using the app in their presentations, and users, of course, should be able to intuitively navigate shared materials with ease.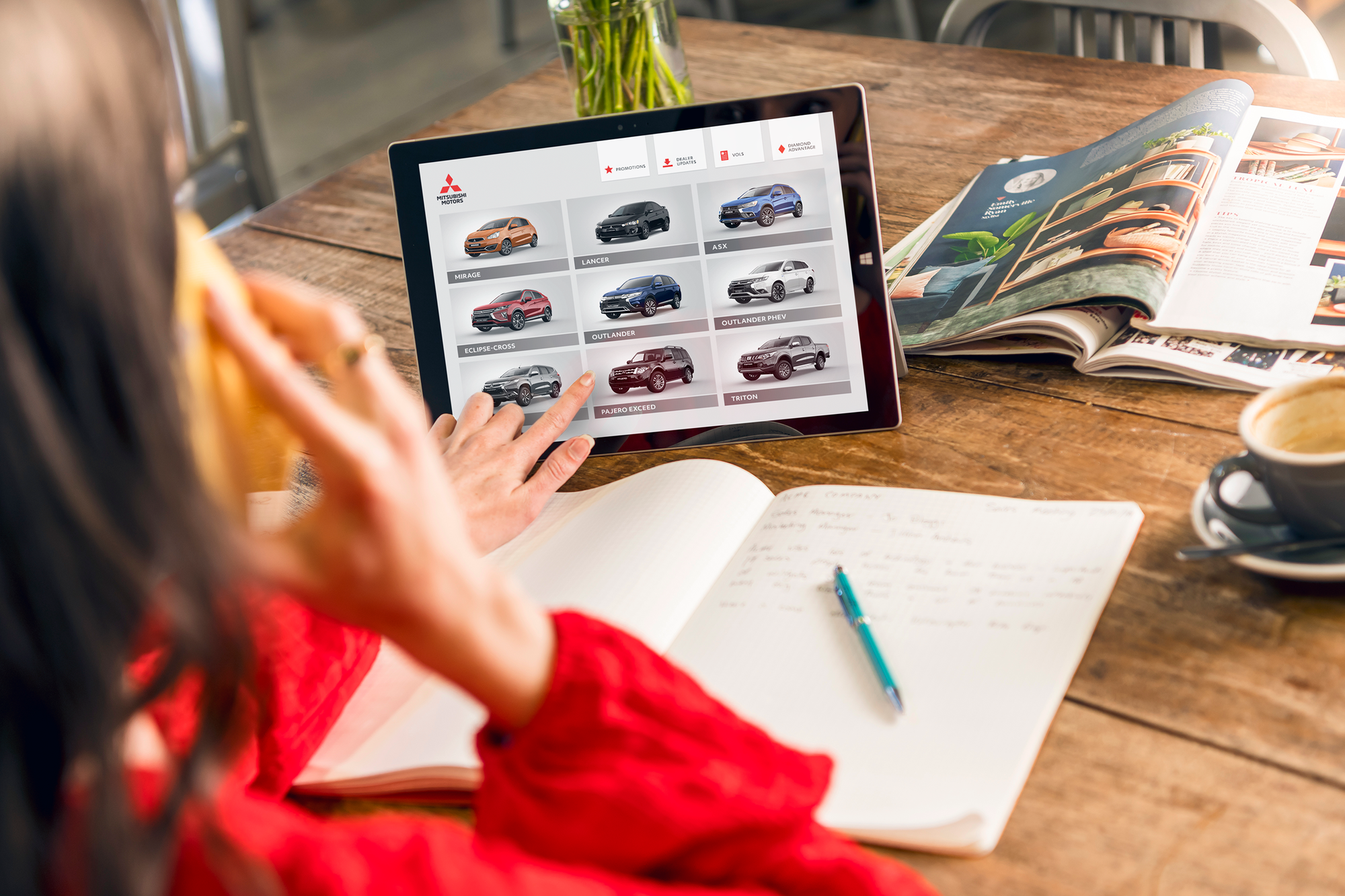 Cost
When it comes to comparing costs, it's where the apples and the oranges start to get very mixed up. ClearSlide does offer more integrated features than Showcase even at the lowest subscription — but their basic subscription price is 75% higher for the basic plan and significantly higher for companies with more than 10 users.
If your company needs the additional features in a single tool, the costs may be justified. If your average users don't need all the features, however, it might be significantly more economical to use Showcase and the occasional third-party add on to accomplish a task.
So who are these products best for?
For large sales teams that frequently use screen sharing and virtual meetings as part of their process, or for sales teams that want granular analytics data about individual members, teams or regions, ClearSlide's additional features may be a good investment.
For teams that don't need those additional features (or only rarely need them), or teams of any size that put a premium on a friendly UI and ease of use, Showcase would be the better option.
No matter what you ultimately decide, we always recommend taking the tools for a test drive before you make your final choice. Click here to enroll in a free trial to find out if Showcase Workshop is the right app for your team's needs.