Choosing a favorite document or file is a lot more socially acceptable than choosing a favorite child. It also just got a whole lot easier to do in Showcase Workshop. Let's dive into our latest feature — coming to a device near you in the not-too-distant future!
The Viewer Experience
For a while now, users have been able to favorite individual slides within a showcase presentation. No idea what we're talking about? Here's a quick run-down.
When you open a slide in the Showcase Workshop app, tap the "hamburger" icon (three horizontal lines) at the bottom left of the screen.

This will open the hidden tools tray. Tap the heart icon to favorite the slide. A colored heart means that slide is a favorite!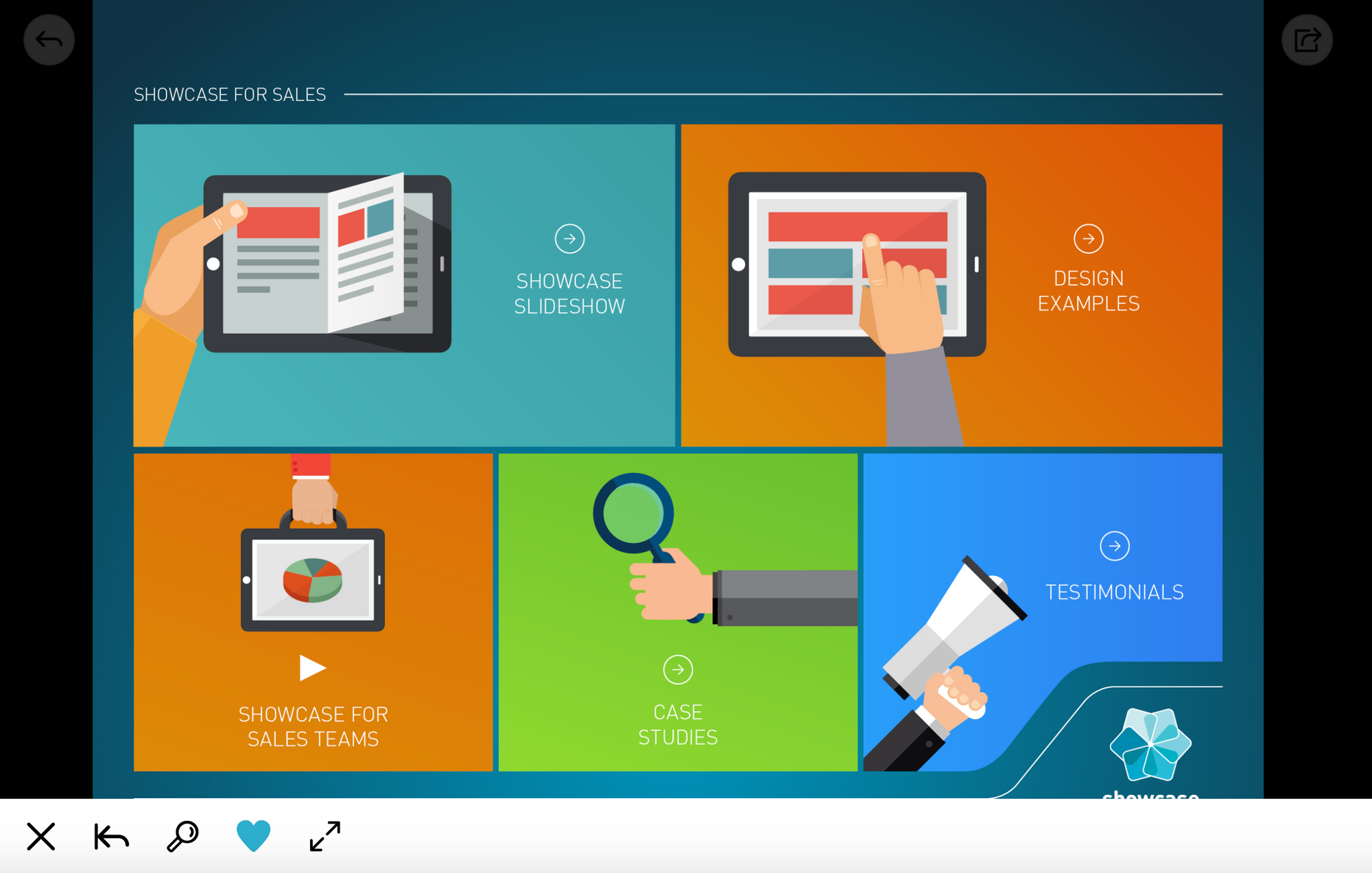 You can access your favorites by clicking the magnifying glass icon and selecting the "Favorites" tab in the top right corner.
This is useful if you're prepping a presentation before a call and want to remember where specific slides sit in the presentation. You can un-favorite and re-favorite depending on the presentation and the prospect. Save yourself some time hunting for those important but elusive slides!
Recently, we gave the Search function a bit of an overhaul so you can now search across file names, slide names, hotspot text, and PDF contents. This saves you even more time because it means you can search keywords in your documents and jump straight to the file without first clicking on the slide.
And then it occurred to us: If you can search for and share a file, why shouldn't you be able to favorite a file too?
Our developers were on it, and now you can favorite PDF documents and videos, as well as slides! The process is much the same: open your favorite PDF or video, tap the hamburger button, and tap the heart icon to favorite it. You'll know it's worked when the heart icon turns blue.
Then, the next time you search, the file or video will show up in your "Favorites" tab.
The Admin Experience
Admins can also view information about favorited slides to help them keep an eye on what's popular.
For Admins, you can navigate to a showcase's outline in the web app (by clicking More > Outline next to the showcase thumbnail). There, you'll see the total number of favorited slides or files at the top of the "Summary" section.

Once you click on this link, you'll see a dialog box with two lists:  Slides and Files. Helpfully, each file listed will have an info button beside it so you can easily see details about the file.
This is a helpful tool when it comes time to update or delete files. You can pop into the Outline and see which files users are favoriting.
If somebody has favorited one that you need to update or delete altogether, you can let them know so they don't get caught off-guard in their next sales meeting. That way, they won't walk into the meeting expecting to use a file that's been updated or is no longer there.
If emailing users manually is too much of a hassle, you can use the Email Users feature to let everyone know about critical updates.
We hope this snazzy new feature will help you keep track of your regularly-used files, so you can make your sales presentations run even smoother. If you run into any issues, give us a shout and we'll be happy to help you out!