"What's the difference between SharePoint and Showcase Workshop?"
It's a question we get all too often.
Though from our point of view, SharePoint and Showcase are two very different beasts, they are both used for content management — so we understand why there might be some initial confusion.
To make it easy for you to tell the difference (and make your own decision on which tool is right for what you're looking for), we created a side-by-side comparison for you here with this article.
The Matchup: SharePoint vs Showcase Workshop
Both software products have document/file/content management at their core.
SharePoint is intranet software from Microsoft, and is often marketed as a document management and storage system. Its main purpose is to enable collaboration within the networks of large organizations.
Showcase is a mobile sales and marketing toolkit, presentation app, and content management system. The software enables you to manage all your content in one place, and the apps turn any mobile device into a powerful sales, presentation and training tool.
Features Comparison
SharePoint puts company news and internal resources in one, easy-to-find location. It also includes calendar and events management tools, and communications tools such as chat, discussion forums and groups. Content is generally shared by using external email systems to send attached files or links to the internal content. Unless coded specifically otherwise, users outside the network cannot access SharePoint content.
Showcase also puts content in one, easy-to-find location. Users can then navigate and display the content on any mobile device using the Showcase app, and it's presented in mobile optimized format for the most professional appearance. Showcase includes email sharing functionality that allows content to be shared directly from the app. Recipients inside or outside the organization receive a link to view the content online.
Out-of-the-Box Functionality
SharePoint is a raw framework that requires development to use it within networked organizations. It operates on the internal server environment, so IT resources are needed for setup and ongoing maintenance.
Showcase offers built-in templates, but can be easily customized by non-developers using the WYSIWYG page-building tools included in the software. It is built on Amazon Web Services (AWS) products and operates in the cloud — so anyone can use it inside or outside the company information network.
Mobile Performance
With help from a developer, SharePoint sites can be optimized for mobile viewing. SharePoint also offers a mobile app — and depending on how the developer set up permissions, you may or may not need network access in order to use it.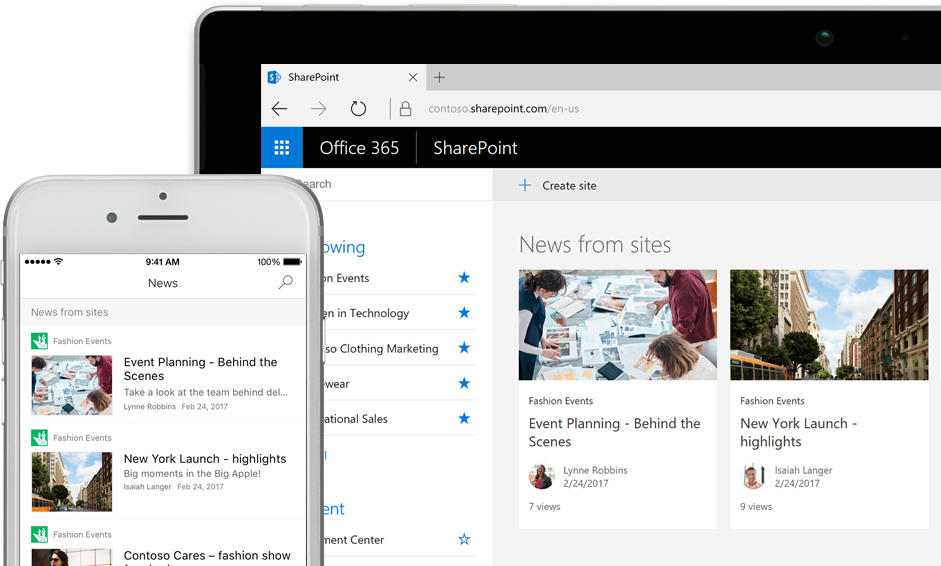 Showcase was built for field teams, so it's optimized for mobile — top to bottom — right out of the box.
File Organization
SharePoint is often used as the document storage system / archive. The upside is that all of the content is in one place. The downside is that all of the content is in one place — all versions, all duplicates, everything. Version control is a huge challenge.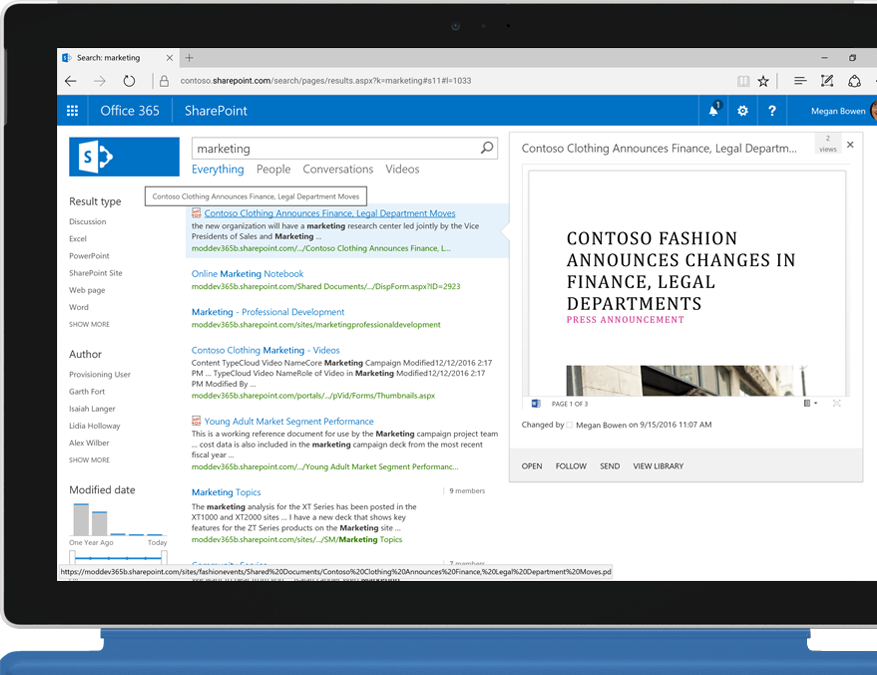 With Showcase, admins can upload all of the organization's sales and marketing content — but they also get to decide what content is visible to users on the front end. Users (sales reps, retail employees, etc.) don't have to dig through archives to find the content they need. When an admin makes a change to a file and publishes the update, the user's version is automatically updated across every device.
Analytics
Since the 2013 version, SharePoint has included robust analytics. Admins can pull detailed usage reports right down to the page or document via Excel. With help from a developer, you can configure the reports for even more specific scenarios.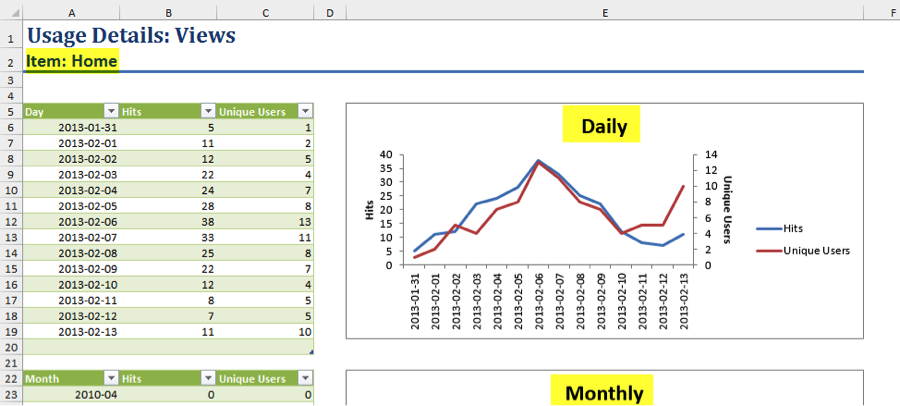 Showcase offers built-in analytics reports that any admin or authorized user can pull without developer assistance. You can get detailed information about user activity, sharing, content consumption, and more. With Timelines, you can also see exactly how much time a viewer spent on each slide and file in a showcase.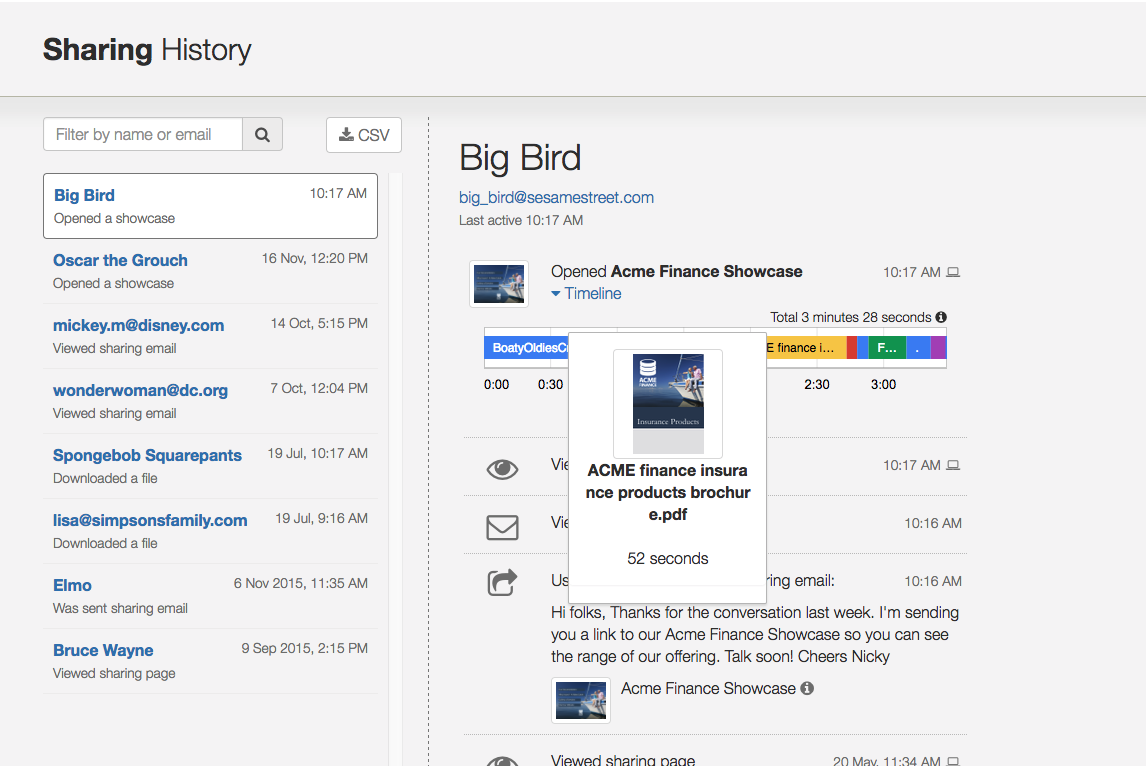 So who's the product best for?
SharePoint is great for internal communications — but it's too clunky and requires too much developer support for it to be very useful in the field. This software is best for large and enterprise organizations with IT resources, and workforces that operate mainly within their company network.
Showcase is best for teams that need to present and share content in the field with customers and colleagues. It's sleek, slick, fast, and makes a lasting, professional impression. Because it doesn't require developer support (though a developer can certainly expand its capabilities), Showcase can be used by organizations of all sizes — and it works especially well for sales teams and retail operations.
SharePoint and Showcase: Better Together?
While many smaller organizations find that SharePoint requires too much in the way of development resources, and Showcase has everything they need to manage, present, and share their sales and marketing content — large organizations often double down and use SharePoint as their intranet and Showcase as their mobile sales toolkit.
Together or one at a time, these are both great tools for sales enablement. While we're always going to love Showcase more — because we built it! — we can tip our hats to the robust internal communications framework that SharePoint offers our customers within large organizations.