This spring, I went on a whirlwind five-week tour of trade shows as a representative of Showcase Workshop.
Not only did I learn some "tricks" to getting better results at trade shows, but I learned a ton about how some companies are actually using our product in their daily lives.
In fact, I learned so much, I knew I should share it with our blog readers who may also be attending trade shows as vendors.
Put Yourself in the Shoes of Your Booth Visitors BEFORE You Haul This Much Chocolate Halfway Across the Globe
There are a lot of things to see at a typical trade show, so you've got to have a solid strategy to entice visitors to your booth.
We knew we'd be competing with food and beverage vendors like Coca Cola and Frito Lay for visitor attention at these particular trade shows. As software vendors, we thought, if we can't beat 'em, join 'em — and I packed three suitcases full to the brim with New Zealand chocolate.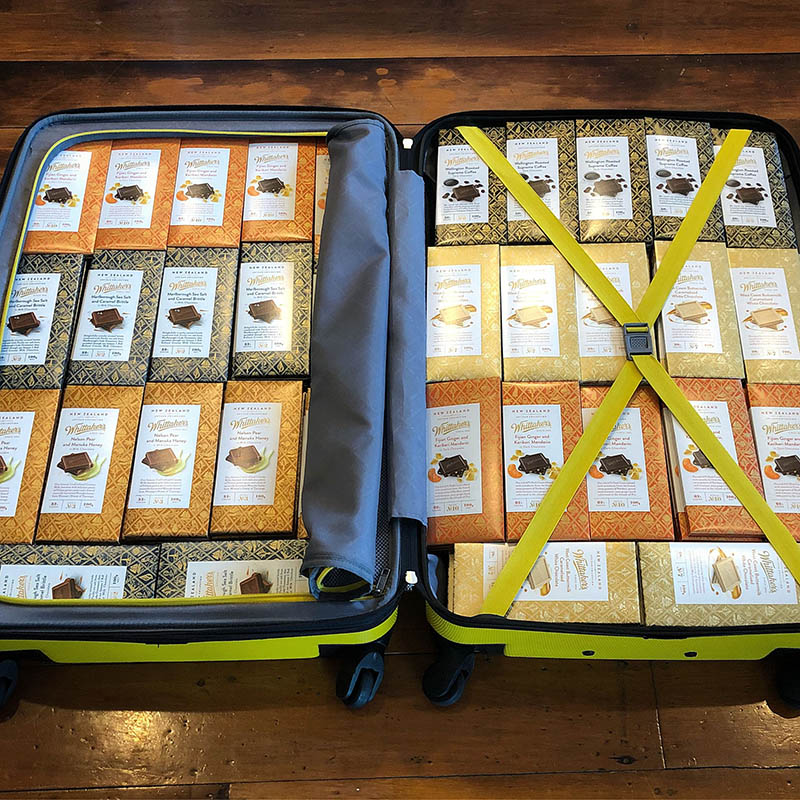 As you can imagine, it was a logistical challenge. So bless you Air New Zealand for your affordable excess luggage policies.
(Full disclosure: I did pack an extra half-dozen blocks of chocolate for myself. My willpower isn't that great for five hours, much less five weeks.)
At our booth, we offered up raffle tickets to visitors — the winner getting 10lbs of New Zealand chocolate for their own suitcase at the end of the day.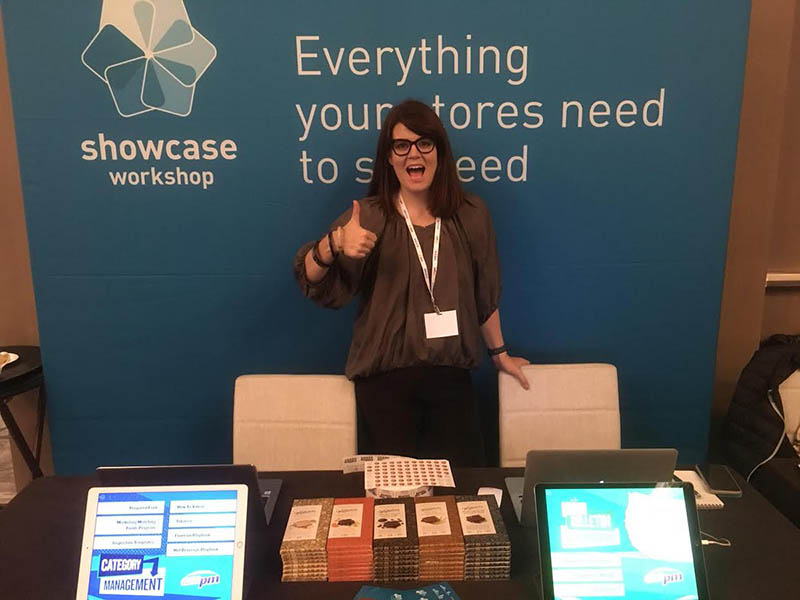 Though I have to say the chocolate temptation plan was a success, I will definitely do it differently next time.
Putting that much chocolate out on display was enticing all right, but people thought they were getting a full bar of that sugary goodness when they walked up — and I found myself having to explain the raffle system over and over again.
Next time, I'm going to cut to the chase and give all our booth visitors the chocolate. Maybe I'll bring smaller portions so I can spread even more chocolate love.
Industry-Specific and Regional Trade Shows Offer Unique Value to Vendors
The trade shows we attended were industry- and region-specific, and we found that resulted in a good mix of conversations. We talked with buyers and the types of people we work with day-to-day at Showcase — but we also got to have conversations with a lot of end users.
It was interesting to me how fundamental the information challenges can be at a site level. We heard over and over that simply being able to walk around a customer site with all the information they need on their tablet or phone would be a huge win. And that simple, fast access to things like uniform ordering and pricing information would make our booth visitors' lives so much easier.
(Of course, this is why we built Showcase in the first place. But it's always nice to hear our product is still hitting the mark!)
The other interesting thing I learned was that for convenience stores, product popularity and product mix differs — sometimes pretty dramatically — by market. I'd never really considered this, but once it was explained to me, it made perfect sense.
For example, tobacco products (especially cigars) are most popular at stores in Las Vegas. In fact, Vegas far outsells most other markets for these products.
Another tidbit I learned: Southern California's cold beverage sales start to ramp up well before Seattle's each year.
What this means for our customers in the convenience store space, of course, is that supporting information and planning materials (especially for promotions and space) need to take these factors into account. Convenience stores aren't making one planning decision for their entire network — they're making decisions for each market.
Embrace Your Role — Even if You're Not on the Sales Team
Unless they know otherwise, delegates at a show will assume that you are a salesperson or account representative for your company. This can feel a little awkward if you're a founder or marketer — or if you're in any business role other than sales.
On my trade show tour, I found that the best thing to do is take advantage of the unique opportunity.
Here's how I did it, and how I suggest you try to approach it if you're in the same position:
Play the part. If you're nervous, or you don't quite know where to start when talking to people, just play the part of a member of your sales team. Everyone who approaches you will assume you are a salesperson anyway — so give them what they came for.

Use this new role as a suit of armor. Let's face it, some of the people that approach your booth aren't going to like your product, and might be flat-out dismissive or critical of it. And that direct feedback is probably not something you're used to hearing very often. So if you hear something you don't like, don't take it personally. Either correct their error if they're wrong, counter their objection if they have one, or let it roll off your back if there's nothing to be done with the comment.

Reveal your real role to deepen relationships. On the flip side of this, there may be an opportunity to deepen relationships by revealing more of who you are and your role in the company. It doesn't matter to every booth visitor, but to some people it can make a big difference to know they are talking to the founder or owner. At the trade shows I attended this spring, many of the visitors to the booth were also business owners — and when I revealed that I am the founder and president of Showcase, we had something in common quite quickly. So if you spot an opportunity to add that information to the conversation, don't hold back. It can take your conversations in interesting directions.
The Show Specifics
The first block of shows we attended were for BP America's West Coast markets: Portland, Seattle / Bellevue, Sacramento and San Ramon.
This year is a particularly big one for BP's convenience brand, ampm, which is celebrating 40 years in business. So of course, their mascot, TOOMGIS, made a cameo. He was quite the lady killer.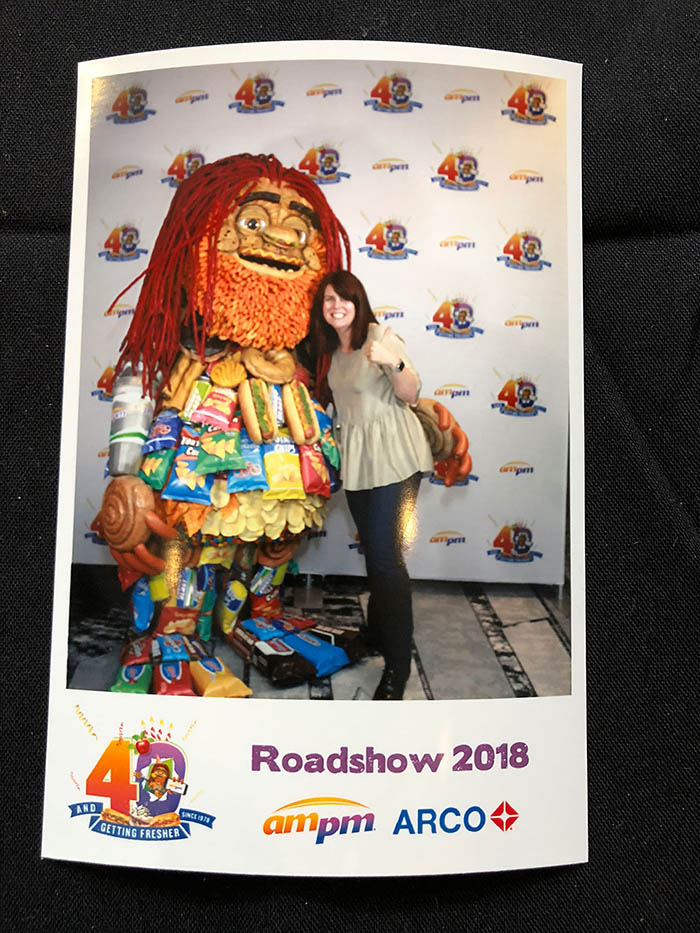 The second block of shows was for ARCO/Andeavor's West Coast markets: San Diego, Anaheim, Ontario, Phoenix, Westlake, Las Vegas and Visalia.
With such a massive market, there were fascinating presentations about the state of the industry — including the potential impact of electric and autonomous vehicles.
We also got insight into the impact of a buoyant job market, which tends to increase staff turnover — making easy-to-implement training and easy-to-access training materials all the more important.
ARCO's mascot, Hanna the Dashboard Hula Girl, also made an appearance. Though on a smaller scale than her counterpart TOOMGIS, since it wasn't a significant birthday year for ARCO. The brand revealed new advertisements and gave all the delegates a collectible Hanna doll.
Here's Hanna checking out the Showcase booth: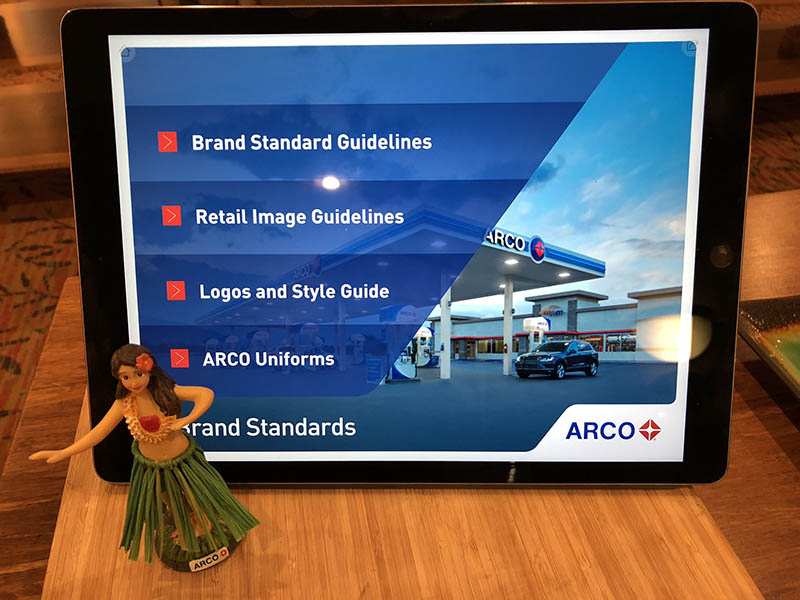 To Wrap Up a Great Trip to the U.S., I FINALLY Got to Meet General Sherman
Our last trade show stop was at Visalia, which is in the inland part of California — and happens to be a gateway to Sequoia National Park.
If you've been hanging around Showcase for any length of time, you know my obsession with America's national parks.
After five weeks on the road, 13 stops and talking to hundreds (thousands?) of strangers, I was very happy to have a spare day to visit Sequoia National Park and check off something special on my bucket list: seeing General Sherman.
General Sherman is the world's largest tree, and it's just as breathtaking as you might imagine.
My leap of joy…maybe less breathtaking and more hysterical. You be the judge: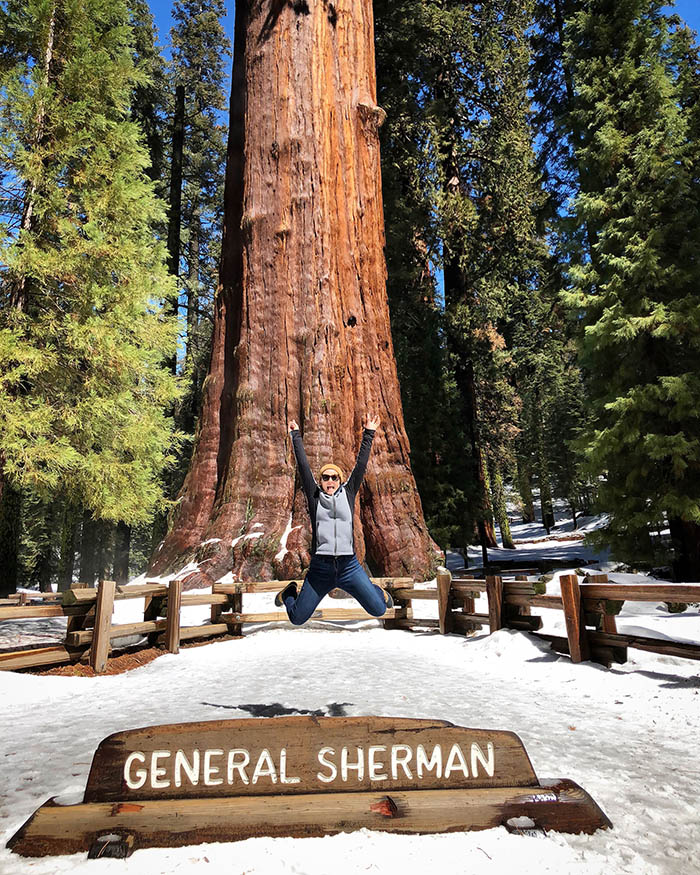 All in all, it was a great five weeks on the road. I learned so much about our customers and end users, their markets and their needs, it was totally worth hauling that massive suitcase full of chocolate all the way from New Zealand.
And to wrap it all up, I was re-inspired by General Sherman to make the most of Showcase's Forest Releaf Fund.
All in a software founder's day's work.