We were a little sneaky. In the dead of night we stealthily snuck into the workshop and implemented new additions to the showcase world and snuck back out, smoother than a 16 year old sneaking back in after curfew.
A little while back we started thinking about how we could improve the process that customers run through when they arrive fresh at the doors of showcase, and want to build a brand new showcase.
As a rule, we do generally recommend that you have a predesigned background for your showcases - particularly if you want to include your branding throughout.
But sometimes, especially in smaller businesses, you don't have the resources on hand to whip up a flashy design - much less the time!  
With this in mind, we decided to expand our very basic showcase templates into something more visually appealing and easier for you to use!
We now have 6 new templates for you to use when creating a new showcase.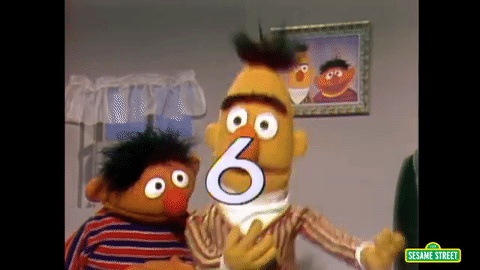 When you click the 'New showcase from template' button, you will now be shown 8 options.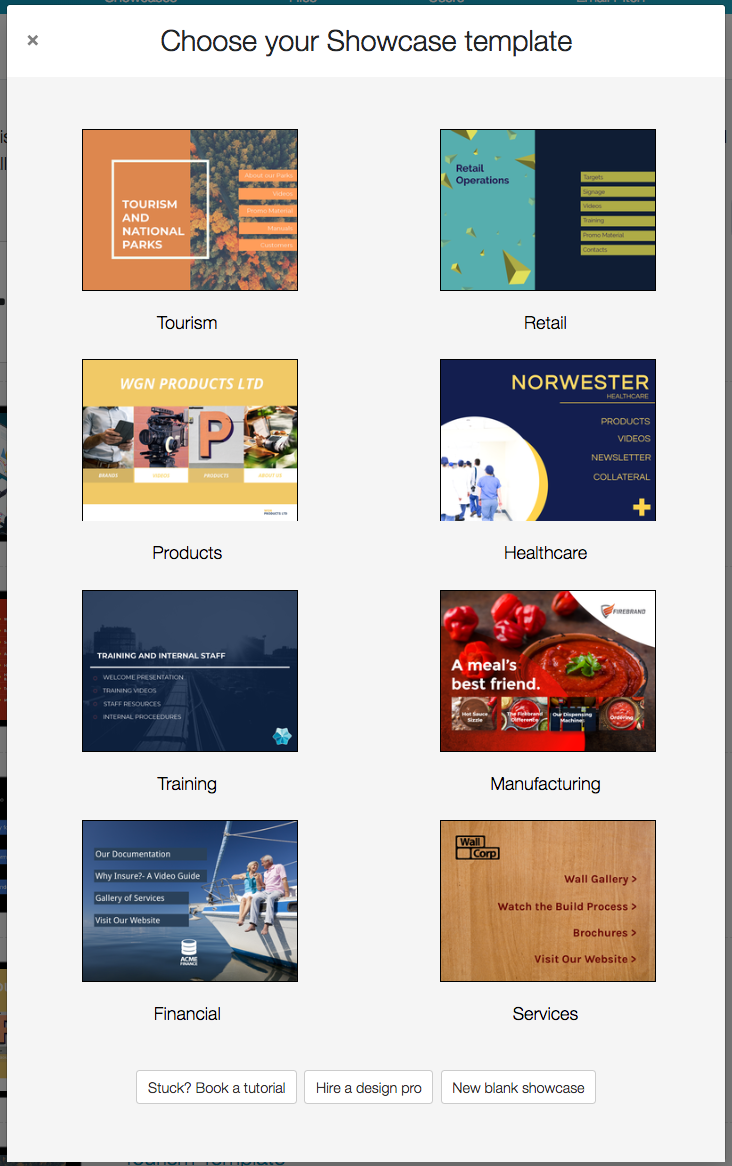 We still have the original standard two templates (they're at the bottom) but now we have 6 options that are loosely related to different industries.
So, how do I use these templates for myself? How do I change things?
I'm going to walk you through how to work with and change the basics of the templates.
You've selected a template and it's been generated - ready to get going!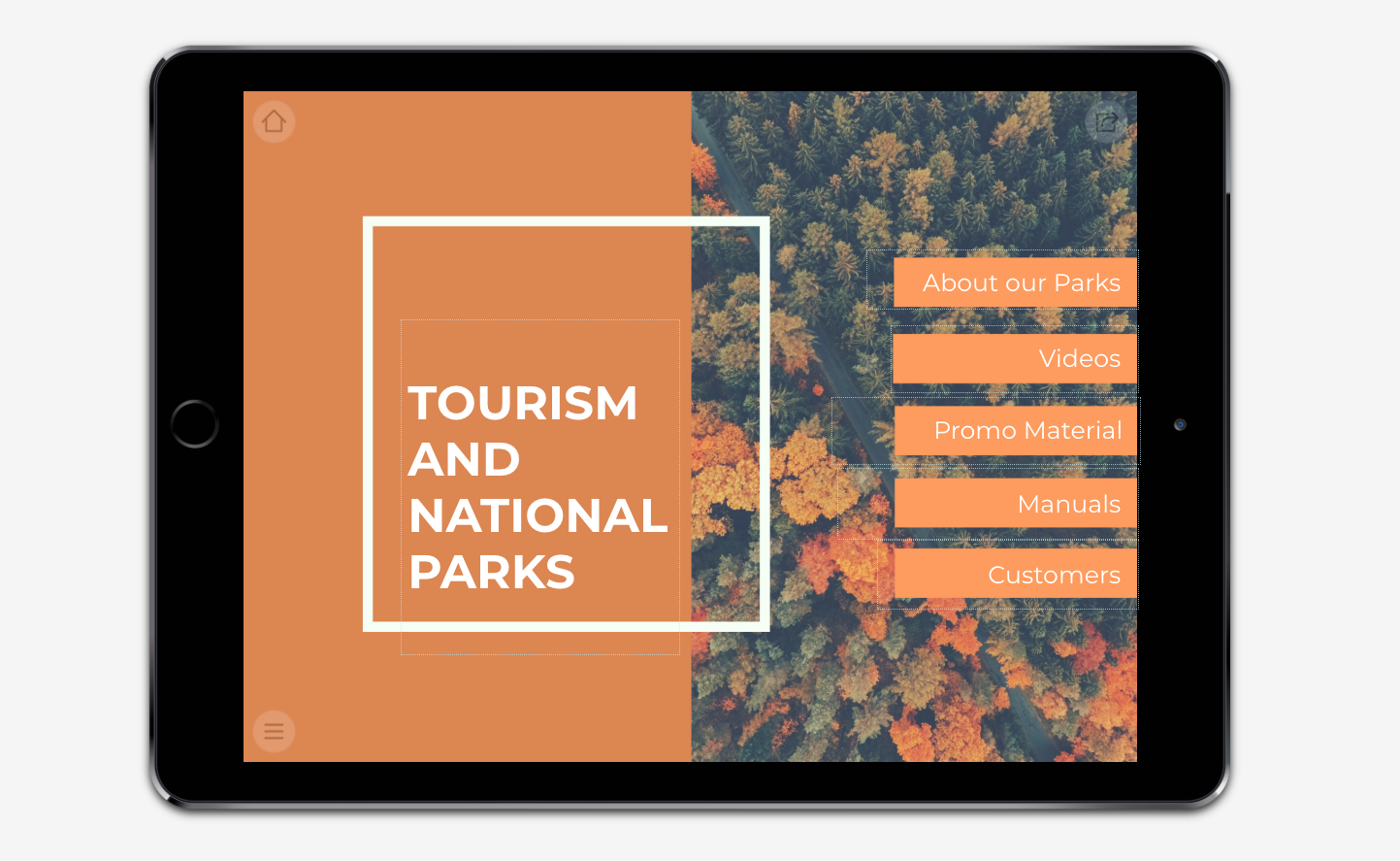 For starters, you want to update the text.
Unless your company actually IS Tourism and National Parks, then wow your work is done here!
To change any of the text on this template, simply double click on the hotspot in which the text lives. You can tell where the hotspots are by looking for the dotted line boxes around the text.
Now you're free to change the words, size, colour, and font of your text. You can even delete it completely and have nothing there if you wish.
Easy!
Decide on your hotspot links.
As you can see, all of the hotspots down the right hand tabs are linked to more submenus.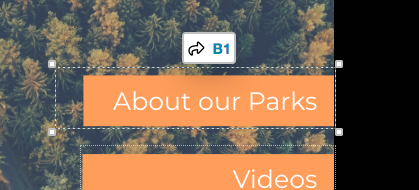 This is just the default way this template has been built. You are able to change what kind of content you'd like any of your hotspots to link to - be it submenu, file, video, or URL.
To remove the current content in a hotspot, click on the hotspot and you'll see whatever content is loaded to the hotspot appear in the content box in the menu bar (as shown).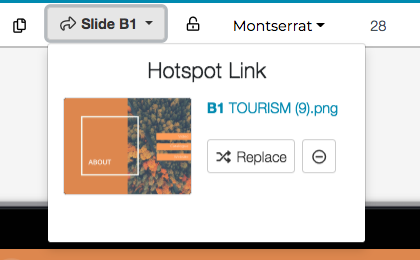 To change it, either click the 'Replace' button or the 'Remove' button, which is the little minus circle next to it.
To add content to a hotspot that doesn't have anything linked yet - click the hotspot once, and then click the 'plus' sign that appears on the box. You'll then be shown options of what you can upload!
Can I change the images in the templates?
Short answer - sometimes.
What do I mean by that? Well here's a couple of examples.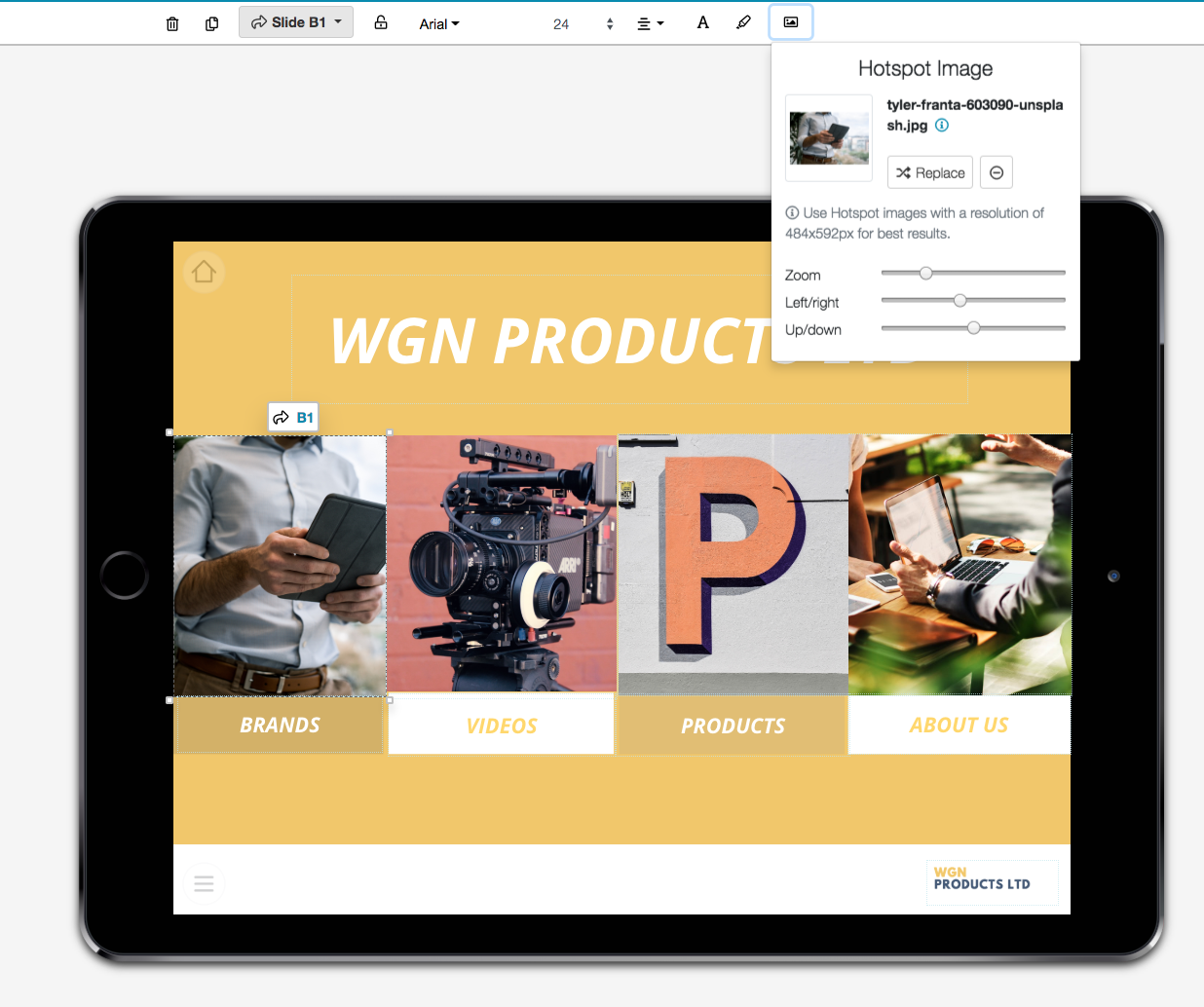 In the "Products" template, each image on the menu is changeable. It is this way because it uses the "Hotpot Image" function. In each hotspot you create, you have the option to add an image to the hotspot area - you can do so by clicking the photo icon in the right hand side of the menu bar.
The image can be zoomed, moved left to right, removed, and replaced all from the Hotspot Image box as appears in the above screenshot.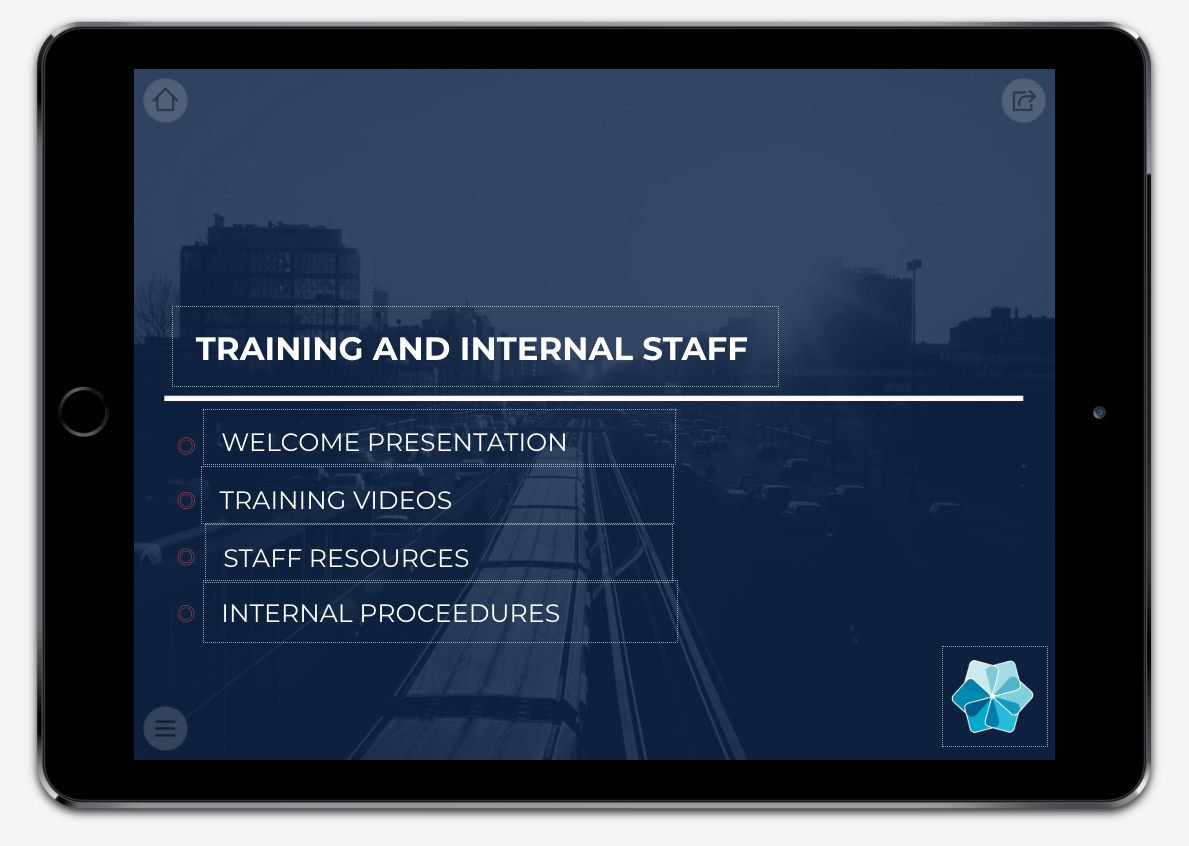 In this template example, you can see it's a little different!
The bottom right logo is within a hotspot, and is a hotspot image like above. This mean you can easily swap it out for an image of your own logo.
You are also able to replace the background image if you'd like but do bare in mind that if you remove the image - the only thing that's left are your hotspots.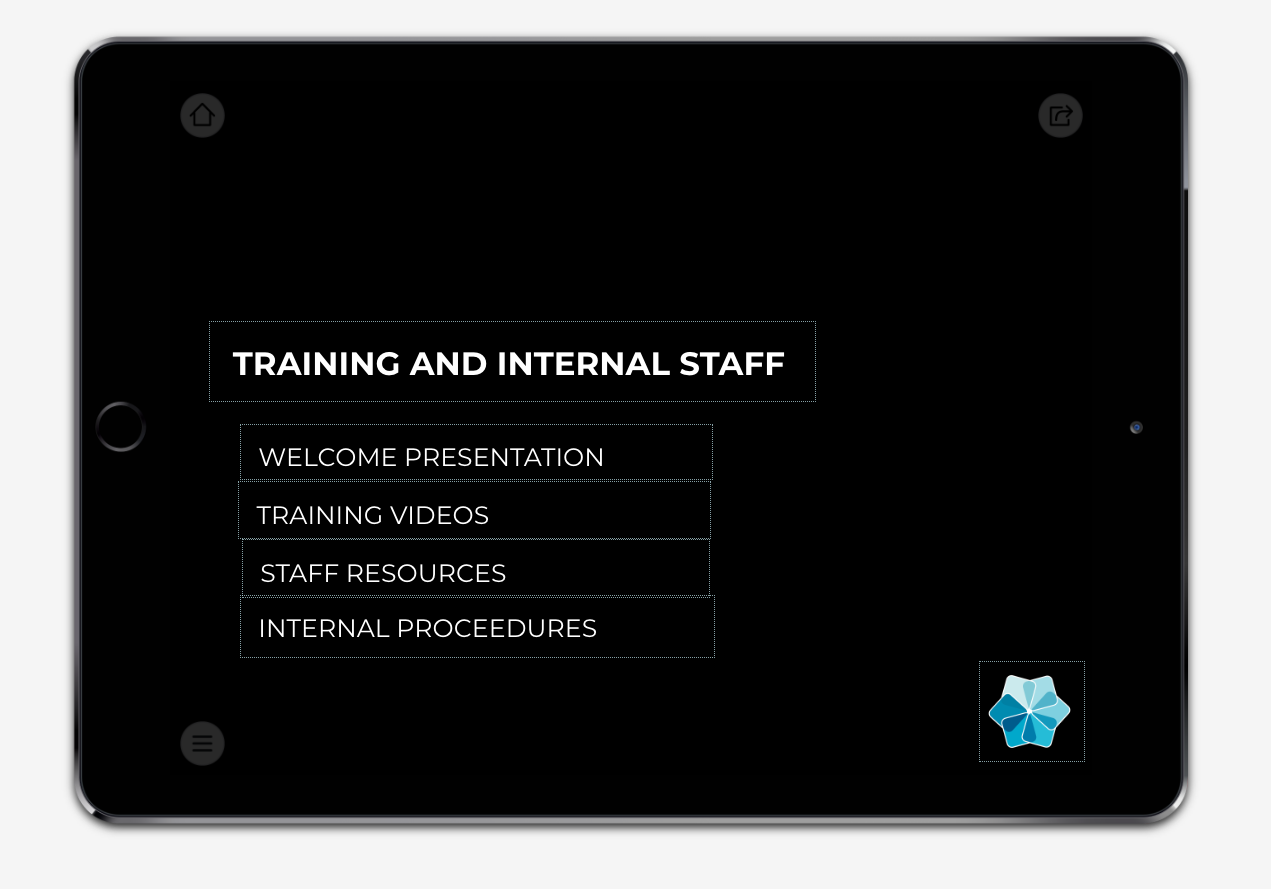 If you'd like to place another image in, then you're more than welcome but do remember that this will alter how the hotspots and images on your template may look. It might need some finessing and editing on your part to get it exactly how you like! But that's the fun of building a showcase, in our opinion :)
The basic overview
Our templates are designed to set you off ground running and for that reason, some of the design elements cannot be changed.
However if you find that some things don't work for you - you can delete, replace, and play around with any of the slides, images and text. The showcase is your oyster!
If you have any questions about templates or how to use them, please do get in touch with us at helpdesk@showcaseworkshop.com - we'd be thrilled to chat with you!